Your graduation is the culmination of much hard work and commitment and is cause for real celebration. This is a day to remember and by following these next steps we hope it will be a very enjoyable one for you.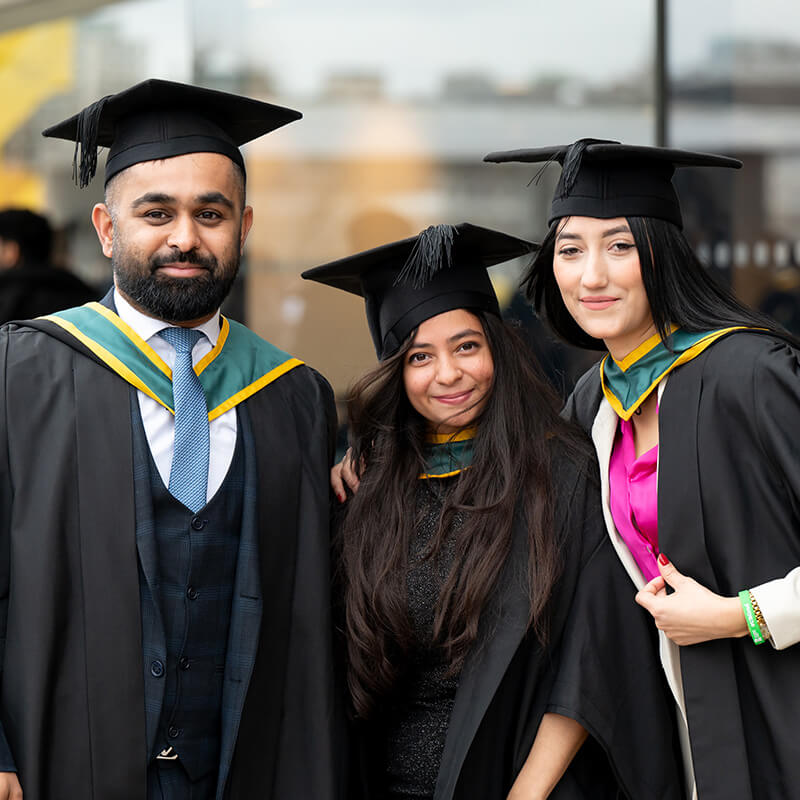 Summer graduation ceremonies
23 and 24 July 2018 at the Royal Festival Hall on London's Southbank
The Summer Graduation taking place on 23 and 24 July will consist of six ceremonies. Students will be guaranteed four initial guest tickets if booked by the deadline.
Invites for the Summer Graduation will be emailed out in the first week of May. Please ensure that you have all of your contact details up to date to ensure you receive the information. Please see below for information on how you can update your contact details (depending on when you finish your studies).
Those who are still completing their studies: please update your details on the Student Portal.
Those who completed their programme: please email registry@roehampton.ac.uk with your up-to-date email address.
The summer graduation ceremonies will take place as follows:
Monday 23 July
Ceremony 1 at 10am for the following departments:
Drama, Theatre and Performance
Humanities
Life Sciences
Ceremony 2 at 12:30pm for the following departments:
Dance
English and Creative Writing
Social Sciences
Ceremony 3 at 3pm for the following departments:
Media, Culture and Language
Psychology
Tuesday 24 July
Ceremony 4 at 10am for the:
Ceremony 5 at 12:30pm for the following departments:
Roehampton Business School
QA Higher Education
Ceremony 6 at 3pm for the following partner institutions:
Roehampton Online (Laureate)
Schiller
EU Business School
Aventis
Further information
You must be awarded prior to graduation in order to attend.
For any other enquiries relating to graduation, please see our FAQs or email graduation@roehampton.ac.uk. If you or your guest requires special arrangements please notify us as soon as possible.
As a graduate of the University of Roehampton you are welcomed into our larger community as one of our alumni. View more information regarding Roehampton Alumni and the associated benefits.
For Deferrals:
If you are unable to attend your graduation ceremony and wish to defer, please complete the necessary form via this link: https://goo.gl/forms/hm5GUrtTL2Agybnv1. Please note, students are only able to defer their graduation once.
For Visa Queries:
Visas can take a long time to process, therefore we advise that you apply as soon as you receive your invitation email.
Your invitation email is the official communication from the University and can be used for visa purposes for both students and their guests.
If you are a Roehampton Online student and need advice, please contact your Student Support team on studentsupport@roehampton-online.com. If you are a European Business School student, please contact Javier Rosero on jrosens@euruni.edu.
Receiving your Certificate
Certificates are not linked to a particular graduation ceremony but to University Awards and Progression Boards. The certificates are produced on a timetable depending when a student is awarded. It is therefore very important that your permanent address is kept up to date at all times of the year using the online facility.
Certificates are produced between six and eight weeks after each Board. For Roehampton Online students, your certificate will be posted by your Student Support Team. For further information please contact them on studentsupport@roehampton-online.com. For enquiries from campus based students, please email registry@roehampton.ac.uk