Audiovisual Translation
Postgraduate degree
This internationally recognised programme addresses the growing demand for translators with skills in translating audiovisual texts.
Start Date:
September 2023
Duration:
1 year (full-time)
2 years (part-time)
Degree Type:
MA/PGDip/PGCert

Number of credits:
MA: 180 credits
PGDip: 120 credits
PGCert: 60 credits
School:
Specific entry requirements
Students must be able to work into or out of English and another language or monolingually in English. Language combinations usually include English with Arabic, French, German, Greek, Italian, Japanese, Polish, Portuguese, Russian and Spanish, although combinations of other languages with English may also be offered. We welcome enquiries from students with Finnish, Norwegian, Danish, Swedish, and Romanian. The decision to run any particular language combination is subject to demand and at the discretion of the Programme Convener in consultation with the Dean of School.
Postgraduate, Master's and Doctoral On-Campus Open Evening
Wednesday 8 February 2023, 5–7:30pm
University of Roehampton London is ranked top 10 in the UK for postgraduate student satisfaction (PTES 2022)
A professionally-oriented course offering students a wide range of contacts in industry in the UK and abroad.

A flexible course that allows students the option to either develop a range of translation skills or focus particularly on those they wish to pursue.

The course is part of the European Masters in Translation network, recognised by the European Commission as a course of excellence and can lead to further opportunities in doctoral research.

Member of APTIS, the network of UK and Irish postgraduate translation and interpreting programmes.
Course and Module Details
Overview:
The MA in Audiovisual Translation is an internationally leading course in its field, recognised by the European Commission as a European Masters in Translation.
It covers a range of areas, including subtitling, accessibility (subtitling for the deaf and hard of hearing, audio description and live subtitling), multimedia localisation, dubbing and voice-over for films. The programme is open to multilingual students wishing to work between different languages but also welcomes students working monolingually in English.
This course covers the theoretical and practical aspects of audiovisual translation. You will explore a broad range of approaches to translation, including linguistic, socio-linguistic, cultural, cognitive, descriptive, gender and postcolonial perspectives. You will also gain the practical translation skills fit for a career in the profession as it is shaped in the 21st Century. You will learn how to subtitle, to translate for dubbing and voiceover, and/or to provide captioning for the deaf and the hard-of-hearing.
You will complete your MA with a dissertation, which allows you to carry out a practical translation task with a commentary or to apply your understanding, knowledge, analytical, conceptual and personal skills to an in-depth investigation of a translation-related topic.
This programme places significant emphasis on accessibility in the media and offers a grounding in translation theory and research methods. Through your work with dedicated software and high-tech industry-standard equipment, you will equip yourself with the skills necessary to enter the professional market and the knowledge to pursue further research in this field.
You will be taught by staff who are experts in their field of translation and whose work has influenced national and international organisations. They will bring their professional experience into the classroom, meaning that you will always be benefiting from the most up-to-date research and practice.
Roehampton's location in the British capital means that you are ideally situated to take advantage of opportunities such as visits to language service providers and cultural institutions where translation takes place (e.g. subtitling for opera).
Placements with translation/localisation companies are at the heart of this MA. Placements are not compulsory, but you will benefit from the extensive industry contacts of members of staff and the visits of key professionals in order to help you find a placement that suits your interests.
Recent graduates have received special commendations from the Institute of Translation and Interpreting for dissertations completed as part of their degree.
A Windows OS computer is necessary to use most of our professional software packages. While all our lessons are on-campus and this will provide students with the best experience, we've made it possible for courses to be followed remotely online so that students with other commitments don't lose out.
Out of English into: Arabic, Chinese, Czech, Danish, French, Finnish, German, Greek, Italian, Japanese, Norwegian, Polish, Portuguese, Romanian, Russian, Spanish, Swedish.
Into English from: French, Greek, Italian, Japanese, German, Spanish
(Contact us about other language pairs)
Corporate member of International Translators and Interpreters
Member of APTIS
Supported by

These modules are those we currently offer and may be subject to change each year.
Indicative Timetable
Students on this course are normally in Monday, Tuesday, Wednesday amd Friday (Day & Evening).
Contact us for further information.
Tuition fees and funding
September 2023 entry tuition fees
Year 1 fees, see links in table below for more information.
September 2023 funding
Career Options
Students go on to careers in a broad range of media companies and broadcasters, subtitling companies, translation and localisation providers, and production houses with in-house translation teams.
Our students have gone to work to many companies in the entertainment and language service industries - from the BBC, Netflix, Fremantle and Deluze to Lionbridge, Playstation, SEGA and Ubisoft.
They perform a variety of professional roles such as subtiling, translating, localising, style editing, dialogue writing, copywriting and cultural consulting.
How to apply
Postgraduate programmes
You can now apply for any programme for any entry point in 2023.
All postgraduate taught applications can be made via our online application form.
If you need any help or advice with your application, or just want to ask us a question before you apply, please do not hesitate to contact us.
International students
Please note that most international applicants have to pay a deposit before securing their place.
See our Finance pages for more details
Postgraduate application process FAQs
Need help before you apply?
Research conducted in the School of Arts covers a wide range of diverse and innovative arts practices, from dance and drama to journalism, film, media, linguistics and computing. Our School of Arts is divided into three subject areas: Dance; Drama, Theatre and Performance; and Communication, Culture and Media. Click here to view our research page.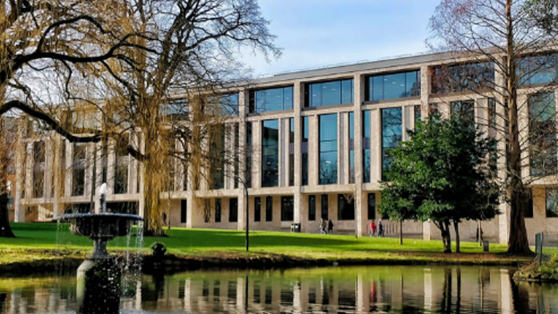 Doing all we can to support our students' lives at Roehampton
At Roehampton, we can offer all new students the opportunity to live in accommodation on our beautiful parkland campus, including affordable and high-end options.
We offer scholarships, provide hardship funding and help you find advice on managing your finances while you study.
We provide plenty of opportunities for you to get involved, through volunteering, playing sport or music, or joining one of our many active student societies.