Dance Anthropology
Postgraduate degree
Gain experience of different cultural approaches to dance, and how it helps define our humanity and identity.
Start Date:
September 2022
September 2023
Duration:
1 year (full-time)
2-3 years (part-time)
Degree Type:
MA/PGDip/PGCert

Number of credits:
MA: 180 credits
PGDip: 120 credits
PGCert: 60 credits
School:
Specific entry requirements
Applicants with a 2:2 or better at undergraduate level will be accepted. At least eight years professional experience is preferred.
Postgraduate, Master's and Doctoral On-Campus Open Evening
Wednesday 9 November 2022, 5–7:30pm
University of Roehampton London is ranked top 10 in the UK for postgraduate student satisfaction (PTES 2022)
Roehampton is rated No. 1 for dance research in the UK (Research Excellence Framework 2014).

You will learn to situate dance practices within worldwide economies and postcolonial contexts.

Collaborate and study with world-leading researchers in the field of anthropology of dance.

An impressive national and global reputation which attracts students and dance artists from all over the world.
Course and Module Details
Overview
The learning and teaching methods on the MA Dance Anthropology programme are designed to provide a range of opportunities for students to be introduced to new ideas and topics, to enhance understanding and to hone critical thinking and research skills.
Explore dance as cultural practice from the perspectives of those involved as dancers, dance makers, teachers and audience members. By studying these perspectives, you will learn how different people around the world understand dance and how dance influences their value systems.
MA Dance Anthropology investigates dance from a non-Eurocentric perspective, placing the practices and values of the dancers into sociocultural and comparative understanding. At the heart of the programme is a focus upon ethnographic perspectives in dance to gain firsthand experience of different cultural approaches to dance practice. You will interpret your findings from the field in light of contemporary debates in dance anthropology.
The course is of particular interest to those who wish to study non-Western, folk, social or ritual dance practices, but the approach can be applied to ballet or Western theatre dance, too. This course provides a way to contextualise dance practice and deepen your understanding of dance and specific practices that help define our humanity.
Our compulsory module, Ways of Knowing, will introduce you to research methods, including ethnography, dance analysis and practice-as-research, while our optional modules allow for flexibility to mould the programme around your academic interests and passions.
The School is home to the internationally recognised Centre for Dance Research, which foregrounds the research of dance as cultural and artistic expression as theatre performance and beyond. Through seminars, forums and conferences involving staff and international invited guests, the centre supports a compelling research culture.
We also have excellent links with dance companies and creative organisations. In easy reach of London's vibrant dance scene, the campus has superb studios and a state-of-the-art theatre for dance students.
Course subject to curriculum review

These modules are those we currently offer and may be subject to change each year.
Indicative Timetable
Students on this course are normally in Monday, Tuesday (Comp) with one extra day depending on optional modules.
Contact us for further information.
Tuition fees and funding
September 2022 entry tuition fees
Year 1 fees, see links in table below for more information.
September 2022 funding
Career Options
Graduates' career options are broadened to include roles such as a community dance practitioner, producer and curator of arts projects, teacher, or to continue into further study as an MPhil or PhD student.
How to apply
Postgraduate programmes
You can apply now for any programme starting in April or September 2022.

All postgraduate taught applications can be made via our online application form.
If you need any help or advice with your application, or just want to ask us a question before you apply, please do not hesitate to contact us.
International students
Please note that most international applicants have to pay a deposit before securing their place.
See our Finance pages for more details
Postgraduate application process FAQs
Validation and curriculum review
What is validation?
Validation is a formal process through which the University approves a programme (content, teaching, learning and assessment) as being of appropriate standard and quality. This is a normal process used throughout the university sector.

The University expects to publish details of the validated programme in the academic year prior to the start date of the programme. You are advised to check the University website at that time to ensure that you have up-to-date information. In the meantime, if you require information you should contact 0208 392 3232.
What is curriculum review?
Curriculum review is the regular and systematic monitoring and reviewing of programmes. It is a normal process in the sector and it is the way by which the university ensures that your course remains up-to-date and relevant. The process may result in changes to the content, structure and/or assessment of the programme.

The University expects to publish details of the re-validated programme by 31 March in the academic year prior to the start date of the programme. You are advised to check the University website at that time to ensure that you have up-to-date information. In the meantime, if you require information you should contact 0208 392 3232.
Need help before you apply?
Research conducted in the School of Arts covers a wide range of diverse and innovative arts practices, from dance and drama to journalism, film, media, linguistics and computing. Our School of Arts is divided into three subject areas: Dance; Drama, Theatre and Performance; and Communication, Culture and Media. Click here to view our research page.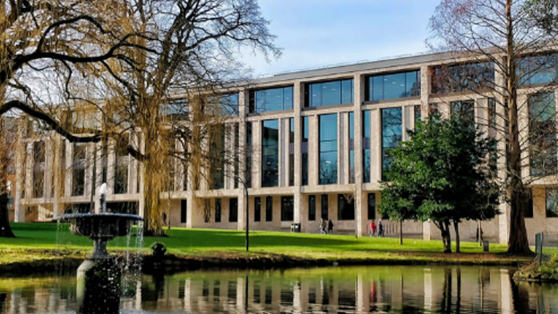 Doing all we can to support our students' lives at Roehampton
At Roehampton, we can offer all new students the opportunity to live in accommodation on our beautiful parkland campus, including affordable and high-end options.
We offer scholarships, provide hardship funding and help you find advice on managing your finances while you study.
We provide plenty of opportunities for you to get involved, through volunteering, playing sport or music, or joining one of our many active student societies.