History
Postgraduate degree
A master's degree that offers a profound understanding of past eras, episodes and societies, as well as employability skills to conduct research, manage projects, think critically and influence others.
Start Date:
September 2022
Duration:
1 year full time
2 years part time
Number of credits:
MA 180 credits
PGDip 120 credits
School:
Applicants require a second-class Bachelor's degree in a relevant discipline from a UK university or an overseas qualification of an equivalent standard
Timetabled to suit working people with evening classes that allow you to fit your studies around other commitments

Roehampton offers expertise over an extensive range of historical periods from medieval tax systems to the Tudor Court, and modern Europe to the Cold War.

Roehampton is close to the National Archives at Kew, a unique resource for historical research. Work placements are also available, for example in archives, libraries, museums or heritage and cultural management.
Course and Module Details
Overview:
Roehampton offers expertise over an extensive range of historical periods from medieval tax systems to the Tudor Court, and modern Europe to the Cold War, and we allow you to choose which ages and historical events you want to specialise in. Roehampton's historians lead the field and you will study with these top scholars to develop research questions of your own.
On this MA History, you will learn how to research in digital technologies as well as traditional methods, which is crucial training for research in the 21st century. By taking modules that hone your research skills, you will be equipped to work with academics who will use their expertise to support and benefit your work, and introduce you to advanced studies in historical topics.
You will complete work placements as part of the programme where you will apply the knowledge and skills you learn in the classroom in the real world. Your work placement might be in public history, such as archives, libraries or museums, or media, community services, heritage and cultural management, or event planning. The University has connections with businesses and employers across London and you will have opportunities to build your professional network that will benefit your career.
Our campus in south west London is close to the National Archives at Kew, as well as the extensive resources the rest of London has to offer. Our university library, built in 2017, holds over 290,000 books and journals, including extensive collections and archives. Our online learning environment enables you to access books, articles, and primary documents from wherever you are in the world.
Course content
Our MA History is designed for people who want to take their historical knowledge to the next step and specialise in a particular area. Whether you are interested in early modern politics, the Vietnam War, or something else entirely, you will be able to develop your own expertise at Roehampton.
You will take two core skills modules, which are designed to sharpen your research abilities and fully acquaint you with a range of historical literature. You will take a module that examines key themes in historical research and a module that includes a work placement or an academic conference.
The final stage of the MA is completing a 15,000 word dissertation in which you choose the periods, people, and themes to explore.
You will be taught in small seminar groups and will have one to one sessions with your supervisor, who will be assigned based on your research interests.
If you are interested in studying our MA History, please get in touch with us to discuss your interests and find out more about the course and studying at Roehampton.

These modules are those we currently offer and may be subject to change each year.
Indicative Timetable
Students on this course are normally in Tuesday and Wednesday evening.
Tuition fees and funding
September 2022 entry tuition fees
Year 1 fees, see links in table below for more information.
September 2022 funding
Career Options
This masters is intended to develop key skills which will be useful for those interested in further academic study, and also for future employment in the creative and heritage industries, e.g. publishing, museums and archives, the media, or any sector that prizes effective research and communication skills.
How to apply
Postgraduate programmes
You can apply now for any programme starting in January, February, April or September 2022.

All postgraduate taught applications can be made via our online application form.
If you need any help or advice with your application, or just want to ask us a question before you apply, please do not hesitate to contact us.
International students
Please note that most international applicants have to pay a deposit before securing their place.
See our Finance pages for more details
Postgraduate application process FAQs
Need help before you apply?
Dominik Hladun
Class of 2018 – BA History
Dominik joined Roehampton in 2015, enrolling onto our BA History and then our MA History in 2018. A childhood fascination with ancient Egypt evolved into an interest in modern European history and particularly Poland's place in 20th century conflicts and the Cold War. Dominik worked in the NHS to help fund his master's studies, and applied to join the organisation's graduate scheme for which – on paper at least – he appeared to tick every box. However on learning that he hadn't even been selected for an interview he realised he'd have to cast his net a bit wider, and shortly afterwards his luck changed dramatically when Dominik was offered a job as a US tax analyst with global finance firm Deloitte.
Not your average 9-5 position, the role often requires long days to accommodate US office hours, particularly during reporting periods, but Dominik is enjoying the whole experience. Deloitte has provided intensive training in finance and US tax regulations, and he's recently been promoted to an Assistant Manager's role in his department. He will have the opportunity to spend a period working in the US, but longer term Dominik wishes to qualify as an accountant in the UK for the wider career opportunities that will offer him within the organisation.
So how does he think his history qualifications helped him secure the job? Dominik remembers being asked at interview to give an example of when he's had to analyse something, and he talked about the multiple, complex historical sources he consulted to write his master's dissertation on how Polish trade unions influenced American unions during the Carter administration. Dominik feels strongly that analysis is a transferable skill possessed by many humanities students, and that skills are more important than knowledge – a philosophy that informs his dealings with the regular intake of American interns he now has to look after.
Read More +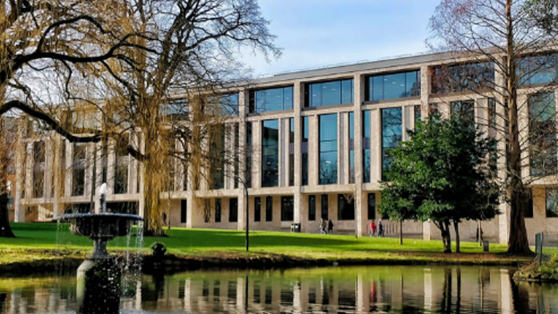 Doing all we can to support our student's lives at Roehampton
At Roehampton, we can offer all new students the opportunity to live in accommodation on our beautiful parkland campus, including affordable and high-end options.
We offer scholarships, provide hardship funding and help you find advice on managing your finances while you study.
We provide plenty of opportunities for you to get involved, through volunteering, playing sport or music, or joining one of our many active student societies.