Primate Biology, Behaviour and Conservation
Postgraduate degree
Embark on an incredible journey with a programme that focuses on studying the biology, behaviour and conservation of primates.
Start Date:
September 2022
September 2023
Duration:
1 year (full-time)
Number of credits:
180 credits
School:
Specific entry requirements
Applications are invited from students with a 2:1 or higher (or international equivalent) in a related subject. Related subjects include Biology, Anthropology, Zoology, Psychology, Conservation Biology, Environment Sciences. Other related programmes may be considered.
Applicants with a 2:2 in a relevant subject and more than 2 years relevant work experience will be considered.
Postgraduate, Master's and Doctoral On-Campus Open Evening
Wednesday 9 November 2022, 5–7:30pm
University of Roehampton London is ranked top 10 in the UK for postgraduate student satisfaction (PTES 2022)
The programme offers an opportunity to carry out a substantial research project in primatology, and is an ideal qualification for those wishing to pursue a PhD in this field.

Many MRes students publish their dissertation research in international scientific journals.

You will be taught by a range of leading research-active primatologists.

We have well established networks with field sites worldwide and in the UK.
Course and Module Details
Overview
Gain the skills required to carry out theoretical and field research in primatology to advance in your career or further study.
Primatology is a discipline that has its roots in anatomy, biology, anthropology and psychology. This programme covers a comprehensive range of topics within primatology and combines theoretical investigation with fieldwork and laboratory sessions. It also offers intensive training in research methods and statistics.
You will begin the year by studying an in-depth range of topics in primatology, as well as learning the theory and practice of primatological research. Recent examples of topics covered include social behaviour, cognition, endocrinology, ranging and habitat use, social networks, human-wildlife conflict, morphology and brain size evolution.
After your first semester, the emphasis will be on independent study, where you will be undertaking a substantial piece of original research. You will develop your intellectual, practical and analytical skills to devise a viable project proposal. You will carry out your project and produce a paper suitable for submission to a peer-reviewed scientific journal and a press release to promote your project's findings. Many of our graduates have subsequently published their work in international journals such as Biology Letters, American Journal of Primatology, Proceedings of the Royal Society B, Animal Behaviour and Biological Conservation.
Field work lasts for three months, usually from March to May. You will have the support of your supervisor in arranging data collection for your research project. In the laboratory, students have used geographic information systems to explore ranging behaviour, analysed parasites from wild primates and performed non-invasive hormone analysis.
The University of Roehampton has established networks with leading institutions and field sites around the world and in the UK. You will be taught by leading experts in the field who carry out their own world-leading research. You can also find more details on the course Twitter and Instagram pages.

These modules are those we currently offer and may be subject to change each year.
Indicative Timetable
Students on this course are normally in Thursday and Friday all day.
Contact us for further information.
Tuition fees and funding
September 2022 entry tuition fees
Year 1 fees, see links in table below for more information.
September 2022 funding
Career Options
Past students have gone on to successful careers in:
Conservation projects

Research institutions

Animal welfare groups or agencies

Zoos and parks

Environmental and animal charities.
These careers involve roles such as scientific researcher, conservation biologist and ecologist, and also in areas such as fundraising, communication and outreach.
How to apply
Postgraduate programmes
You can apply now for any programme starting in April or September 2022.

All postgraduate taught applications can be made via our online application form.
If you need any help or advice with your application, or just want to ask us a question before you apply, please do not hesitate to contact us.
International students
Please note that most international applicants have to pay a deposit before securing their place.
See our Finance pages for more details
Postgraduate application process FAQs
Need help before you apply?
prev
I chose the MRes Primate Biology, Behaviour, and Conservation at Roehampton for many reasons: its reputation and the number of high quality researchers who have graduated from the programme, the wide range of projects offered allowing you to explore different aspects of primatology, and the quality of the professors who teach. The MRes helped me elevate my knowledge and capabilities as a scientist. In combination with my field work experience, the MRes set me up perfectly to be able to design and conduct a primatological study that met my interests.
I'm now about to start my PhD at Tulane University in New Orleans. The subject will investigate vocal communication in wild male white-faced capuchin monkeys (Cebus capucinus) living in Santa Rosa National Park, Costa Rica.
Nicholas Chapoy Class of 2021: MRes Primate Biology, Behaviour and Conservation
I chose to study at Roehampton because I had already experienced two taught degrees and wanted the additional challenge of having a more research focus. There's a great mix of skills, lectures and independent study. My peers and I still use all these skills today in our current research and jobs. I still see some of my supervisors. They still support my research efforts. It is great to meet up as friends, as well as colleagues, after all these years. I don't think many universities can boast that type of rapport with their alumnae."
Carolyn Thomson, MRes Primate Biology, Behaviour and Conservation graduate
Rhesus macaques became more social after Hurricane Maria
Read about the contribution of a former student's research project to a study on the behaviour of rhesus macaques in Cayo Santiago, Puerto Rico before and after Hurricane Maria in 2017.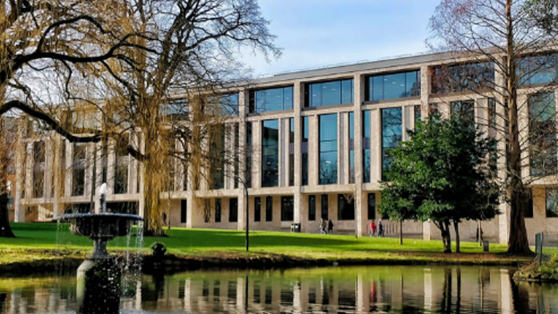 Doing all we can to support our students' lives at Roehampton
At Roehampton, we can offer all new students the opportunity to live in accommodation on our beautiful parkland campus, including affordable and high-end options.
We offer scholarships, provide hardship funding and help you find advice on managing your finances while you study.
We provide plenty of opportunities for you to get involved, through volunteering, playing sport or music, or joining one of our many active student societies.