MA Spanish Language Teaching
Postgraduate degree
Enhance your knowledge of applied linguistics, and learn how to teach the Spanish language to foreign students.
Duration:
1 year (full-time)
2 years (part-time)
Number of credits:
MA: 180 credits
PGDip: 120 credits
School:
Specific entry requirements
Students will need to have:
A good level of Spanish language and/or language teaching
A second class honours degree
A unique, non-immersive language teaching programme.

Gain a clear insight into the world of foreign language teaching, specifically Spanish.

Develop your professional expertise and knowledge based in Spanish language and linguistics.

Roehampton has strong links with the Cervantes Institute, the official institution for the promotion of Spanish language and culture.
Course and Module Details
Overview:
Our unique programme in teaching Spanish as a foreign language allows you to gain a postgraduate degree whilst living in London. You will graduate with a deep knowledge of applied linguistics, and specifically of the nature of the Spanish language and how to teach it to foreign students. This course is ideal for both those who studied Spanish at undergraduate level, and those who have an undergraduate degree from a Spanish or Latin American university, whether you either want to develop your career as a language teacher or have graduated from a Spanish speaking university and want to improve your own English language skills abroad.
You will acquire all the skills and knowledge necessary to be a proficient teacher of both Spanish, and other languages, as a foreign language. You will reflect on the structure of Spanish, the use of the words in the language and how to teach it to foreign students in a communicative way. You will also explore and examine your own learning process throughout the programme, choosing your most significant learning experiences, both theoretical and practical, and reflect upon them.
You will develop your professional expertise and knowledge based in Spanish language and linguistics, and have opportunities to practice teaching the language to non-speakers. You will learn the methodologies of language teaching, informed by research and current best-practice. There is also a strong Spanish culture element in the programme, and you will be encouraged to think about how to bring Spanish culture into the classroom, for example, how to harness a multicultural city like London to create a more dynamic learning experience for your students.
Whether you are using Spanish language teaching in your current career or you aim to make this a potential career, there will be opportunities throughout the course for you to critically reflect on issues of language. You will have the chance to consolidate your learning with hands on teaching experience either onsite at Roehampton or at another institution that teaches Spanish.
You will benefit from the University's close relationship with the Instituto Cervantes, the official institution for the promotion of Spanish language and culture, and the resources and connections it offers.
You will be taught in both English and Spanish in workshops and seminars, whilst your dissertation can be in either language.
Career Options
You will be equipped to pursue teaching Spanish as a foreign language in a variety of settings and industries, both in education and corporate settings.
This MA will not give you Qualified Teacher Status (QTS) so you will not be able to teach the Spanish curriculum in a state secondary school in England or Wales. To gain QTS please see our PGCE programmes.
You may be employmened in secondary schools within the independent sector and the Free School sector.
You will be able to seek employment in adult education and the private language school sector.
How to apply
Postgraduate programmes
You can apply to us now for any postgraduate degree starting in 2021.

All postgraduate taught applications can be made via our online application form.
If you need any help or advice with your application, or just want to ask us a question before you apply, please do not hesitate to contact us.
International students
Please note that most international applicants have to pay a deposit before securing their place.
See our Finance pages for more details
Postgraduate application process FAQs
Need help before you apply?
Get real advice directly from our students
Speak to one of our students using the UniBuddy app now
Research conducted in the School of Arts covers a wide range of diverse and innovative arts practices, from dance and drama to journalism, film, media, linguistics and computing. Our School of Arts is divided into three subject areas: Dance; Drama, Theatre and Performance; and Communication, Culture and Media. Click here to view our research page.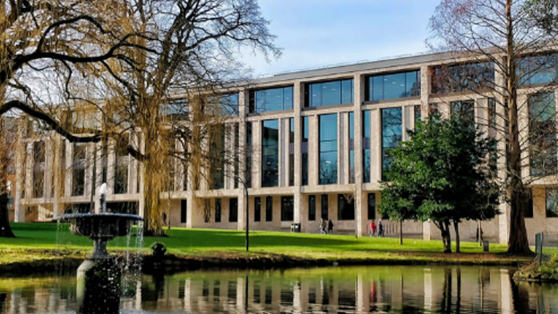 Doing all we can to support our student's lives at Roehampton
At Roehampton, we can offer all new students the opportunity to live in accommodation on our beautiful parkland campus, including affordable and high-end options.
We offer scholarships, provide hardship funding and help you find advice on managing your finances while you study.
We provide plenty of opportunities for you to get involved, through volunteering, playing sport or music, or joining one of our many active student societies.