TESOL
Postgraduate degree
Develop the skills and experience you need to springboard yourself to a successful career in English teaching.
Start Date:
September 2022
Duration:
1 year (full-time) or 2 years (part-time)
Degree Type:
MA/PGDip/PGCert

Number of credits:
PG Cert 60 credits
PG Dip 120 credits
MA 180 credits
School:
Specific entry requirements
Applicants with a 2:2 or higher in a relevant discipline.
The University is currently reviewing this programme as part of a consultation with staff and there is a possibility that it may close for new students enrolling from September 2022. This would mean that you would not be able to enrol on the programme. If the programme remains open for enrolment in September 2022, there is a possibility that there will be changes to its curriculum and or delivery. The University expects to have completed the consultation and its review by the end of July 2022. If the University decides to close the programme or make any major changes, this decision will be communicated promptly via email to any applicants and offer holders, along with information about options for alternative programmes of study. If you would like more information please contact communications@roehampton.ac.uk.
You will gain in-depth knowledge of the structure of language at different levels of analysis and the relationship between language and use.

There is a strong emphasis on the application of linguistic knowledge in the classroom.

A flexible choice of modules allows you to specialise in areas that interest you.

.
Course and Module Details
Overview:
There is a demand throughout the world for graduates with qualifications and expertise in teaching English to speakers of other languages (TESOL). Our MA in TESOL is designed for students who are intending to have a career in English teaching. It will also be of interest to those who are already teachers of English and would like to increase their professional expertise by advancing their analytical knowledge of English and up-to-date teaching methods.
You will gain in-depth knowledge of the structure of language at different levels of analysis and the relationship between language and use. You will develop a critical understanding how English is learnt, taught and tested so that you can make informed decisions with regard to policy and practice in your TESOL career.
You will explore also the theories of learning a second language and look critically at the nature of discourse as the central feature of human interaction. You will also gain a solid foundation in approaches such as conversation analysis and pragmatics; narrative analysis; critical discourse analysis and genre analysis.
We offer pathways for students with various levels of experience and qualification:
If you are quite new to TESOL, you will take Practice in TESOL, which focuses on key-teaching skills and carefully guided peer-teaching practice.
If you have CELTA or equivalent and a relevant teaching position or voluntary placement, you can take the Portfolio in TESOL module, which supports the development of teaching practice in your professional context.
If you have DELTA or equivalent, you will be exempted from 60 credits, allowing you to strengthen your knowledge of learning, teaching and testing while completing the MA in one year of part-time study.
You will also be trained in a wide range of research methods and undertake a dissertation in an area that is of particular interest to you and helps you to further your career goals. This element of the course also provides you with a strong foundation for further doctoral level study. You will become a member of Centre for Research in English Language and Linguistics (CRELL), a thriving forum for researchers with a wide range of interests in linguistics, applied linguistics and sociolinguistics.

These modules are those we currently offer and may be subject to change each year.
Indicative Timetable
Students on this course are normally in Tuesdays and Wednesdays (day).
Contact us for further information.
Tuition fees and funding
September 2022 entry tuition fees
Please follow the links in the table below for more information.
September 2022 funding
Career Options
There are excellent opportunities around the world for teachers with an MA in TESOL. Related career possibilities include policy adviser, trainer of trainers, and designer of teaching materials. Applied linguistics is a very useful basis for a range of careers in publishing, editing and communication.
How to apply
Postgraduate programmes
You can apply now for any programme starting in April or September 2022.

All postgraduate taught applications can be made via our online application form.
If you need any help or advice with your application, or just want to ask us a question before you apply, please do not hesitate to contact us.
International students
Please note that most international applicants have to pay a deposit before securing their place.
See our Finance pages for more details
Postgraduate application process FAQs
Need help before you apply?
Research conducted in the School of Arts covers a wide range of diverse and innovative arts practices, from dance and drama to journalism, film, media, linguistics and computing. Our School of Arts is divided into three subject areas: Dance; Drama, Theatre and Performance; and Communication, Culture and Media. Click here to view our research page.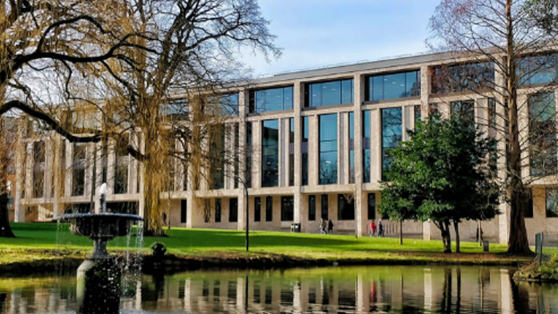 Doing all we can to support our students' lives at Roehampton
At Roehampton, we can offer all new students the opportunity to live in accommodation on our beautiful parkland campus, including affordable and high-end options.
We offer scholarships, provide hardship funding and help you find advice on managing your finances while you study.
We provide plenty of opportunities for you to get involved, through volunteering, playing sport or music, or joining one of our many active student societies.