Drama
Undergraduate degree
Develop your written, verbal and artistic voice while gaining the creative and critical skills to succeed in a career you are passionate about.
Start Date:
September 2022
Entry Tariff:
Year 1 entry: 112 UCAS points (or equivalent)
Degree Type:
BA (single honours)

Duration:
3 years (full-time)
4 years (full-time) if opting for the additional placement year
School:
Entry tariff:
Year 1 entry: 112 UCAS points (or equivalent)
We welcome applications from students studying T-Levels.
For all courses we also accept a wide range of other qualifications and experience. Contact us to find out more.
When we consider applications to study with us, we form a complete view of your achievements to date, and future potential, and can offer flexibility in entry requirements. Find out more about our Contextual Offer scheme.
General entry requirements:
The University is currently reviewing this programme as part of a consultation with staff and there is a possibility that it may close for new students enrolling from September 2022. This would mean that you would not be able to enrol on the programme. If the programme remains open for enrolment in September 2022, there is a possibility that there will be changes to its curriculum and or delivery. The University expects to have completed the consultation and its review by the end of July 2022. If the University decides to close the programme or make any major changes, this decision will be communicated promptly via email to any applicants and offer holders, along with information about options for alternative programmes of study. If you would like more information please contact communications@roehampton.ac.uk.
Roehampton is in the top five universities in England for graduate earnings in drama (Longitudinal Education Outcomes, 2020 results, earnings five years after graduation). 

The programme builds on your passion for the arts by exploring the wider social, economic, political and cultural impacts of artistic practice and arts curation.

You will benefit from seeing a diverse range of London theatre and discussing productions and trends with tutors and peers, featuring work by Global Majority artists.

Undertake a work placement in renowned creative arts organisations or teaching in local schools and the wider community (recent opportunities with The People Show, Chelsea Theatre and Live Art Development Agency).
Course and Module Details
Overview
The BA in Drama takes your passion for drama and the arts as a starting point for a journey to develop your artistic voice and your creative vision within the rich and growing sector of the creative industries.
The degree is project-based, building your artistic and research skills as you apply them to real projects and productions under the tutelage of our internationally recognised faculty and partners from professional London arts organizations. The programme builds on your passion for the arts by exploring the wider social, economic, political and cultural impacts of artistic practice and arts curation.
Working across performance for live and digital platforms, you will become skilled, innovative, adaptable theatre artists and entrepreneurs, capable of acting in, directing, devising, designing writing and producing works that are dynamic, socially-engaged and accessible within a variety of professional platforms.
Every module will be assessed on skills that reflect professional work in the creative industries such as acting, creative writing, directing and producing, and you will have the chance to engage with arts professionals at a variety of London venues during each year of study.
While there will be opportunities for specialism in areas such as acting, creative writing, design and producing, the emphasis is on supporting the development of well-rounded artists, producers and managers who can take their skills into a variety of employment contexts where creative capacities are vital.
Courses in creative entrepreneurship, arts management, digital literacy and professional development will run alongside intensive project-based courses, featuring an exciting range of guest artists and industry experts. 'Studio' and 'studies' skills, as well as projects, are integrated across the curriculum.
Throughout the programme you will develop your voice - written, verbal and artistic. Modules will be accessed through various forms of writing such as reviews, blogs, essays, and playwriting and a variety of productions including devised performances, plays and festival curation where you can act, direct and produce. Through this programme you will hone your ability to collaborate while beginning to establish your professional network.
Regardless of confidence or previous practical experience, you will have the opportunity to engage heavily in every aspect of the course. In doing so, you will find yourself in a supportive, inclusive community of staff and peers dedicated to helping you flourish as a student, and a graduate, of Drama.
Course subject to validation
Placement Year
This course offers all students the option of a one-year paid work placement, to boost your employability even further. If you choose this route, you will take the placement following year two of your course, and then return to complete your degree.
Why take a placement?
A placement year is the perfect opportunity to gain valuable work experience, to build on the career skills we will teach you on this degree. The connections you make on the placement will improve your career prospects further, and equip you with the skills you need to secure graduate-level employment.
How we support you
The University's Placement and Work Experience Team are experts at helping you to secure a placement. They will work closely with you from the start, helping you research potential employers, discover placement opportunities, create and pitch your CV, and will coach you to perform well in interviews. We aren't able to guarantee a placement, but our sector-leading advisors will give you the best possible chance of securing one.
Find out more about how we'll support you
We understand that your plans might change once you start your programme. If you decide not to do a placement, you will have the option of completing the three year version of your programme.
Whatever your choice, you will have access to many opportunities for work experience through our Placement and Work Experience Team, and access to face-to-face and 24/7 online careers support.
Modules:
Here are examples of the modules we currently offer:
Year 1


Rehearsal Practices,
Performance and Theatre Time Travel
London Theatre and the Arts
Performance and Theatre Projects
Performance, Theatre and Society
Professional Practices 1: Arts management
Year 2


Performance and Theatre Projects
Festival project
Performance, Theatre and Society
Acting and Theatre Making
Writing for the Contemporary Stage
Year 3


Major Project
Performance, Theatre and Society
Work Placement
Professional Practices 2: Creative Collaboration

These modules are those we currently offer and may be subject to change each year.
Tuition fees and funding
September 2022 entry tuition fees
Year 1 fees, see links in table below for more information.
September 2022 funding
Career Options
You will be well equipped to pursue a career in theatre, arts management, playwriting, arts journalism, casting, stage management, scenic, lighting or sound design, events management, and leisure and tourism.
Our BA in Drama is designed to be broad and all-encompassing, meaning that you will be given the tools to flourish both on and off the stage once you graduate.
Our degree also opens up an array of opportunities in other fields and professions by developing key transferable skills throughout your three years at Roehampton, which include but are not limited to collaborative working, creative project management, critical and creative problem solving, and excellent interpersonal communication skills.
You could also go on to a master's degree in theatre or postgraduate training in teaching or dramatherapy.
How to apply
Undergraduate programmes
How to join us in September 2022
We are still accepting applications for our courses for September 2022 and have vacancies. Contact us if you have any questions, or apply using the links above.
If you need any help or advice with your application, or just want to ask us a question before you apply, please do not hesitate to contact us.

Detailed advice on applying for an undergraduate degree is available in the FAQs section below.
Validation and curriculum review
What is validation?
Validation is a formal process through which the University approves a programme (content, teaching, learning and assessment) as being of appropriate standard and quality. This is a normal process used throughout the university sector.

The University expects to publish details of the validated programme in the academic year prior to the start date of the programme. You are advised to check the University website at that time to ensure that you have up-to-date information. In the meantime, if you require information you should contact 0208 392 3232.
What is curriculum review?
Curriculum review is the regular and systematic monitoring and reviewing of programmes. It is a normal process in the sector and it is the way by which the university ensures that your course remains up-to-date and relevant. The process may result in changes to the content, structure and/or assessment of the programme.

The University expects to publish details of the re-validated programme by 31 March in the academic year prior to the start date of the programme. You are advised to check the University website at that time to ensure that you have up-to-date information. In the meantime, if you require information you should contact 0208 392 3232.
Need help before you apply?
"I had always dreamed of studying in London from exposure to British cinema, television and literature growing up, so I knew it would be an excellent place to study and refine my passion for theatre and the arts. My most memorable moment at Roehampton so far has been performing live with the student jazz band as their lead vocalist at Summer Ball. We performed on the same stage as John Newman!"
Luke Coffey, Drama, Theatre and Performance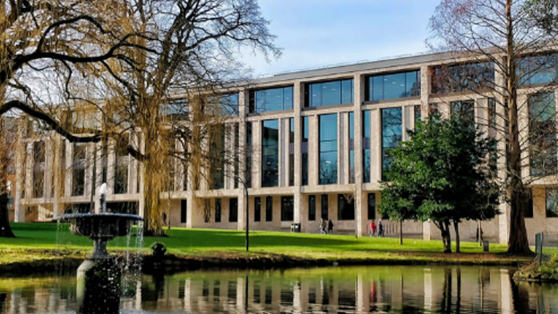 Doing all we can to support our students' lives at Roehampton
At Roehampton, we can offer all new students the opportunity to live in accommodation on our beautiful parkland campus, including affordable and high-end options.
We offer scholarships, provide hardship funding and help you find advice on managing your finances while you study.
We provide plenty of opportunities for you to get involved, through volunteering, playing sport or music, or joining one of our many active student societies.