BA Photography
Undergraduate degree
Study this course as a 4-year extended degree
Develop advanced photography skills, and gain a wide-ranging understanding of contemporary photographic culture.
Duration:
3 years (full-time)
4 years (full-time) if opting for the additional placement year
Degree Type:
BA (single honours)
BA/BSc (combined honours)

Entry Tariff:
September 2022 entry: 112 points
School:
Specific entry requirements:
Offers are typically based in the range of 112 points from A-levels, BTEC diplomas, UAL diplomas, the International Baccalaureate or equivalents. Our offers are not solely based on academic results; we also take your skills, achievements and life experience into consideration.
You may be invited to share your portfolio if you have one.
Roehampton is ranked in the top 20 universities in the country for photography (Guardian University Guide 2019).

.

Use the latest high spec equipment and studio facilities, including an industry-standard medium format digital camera.

Hone your photography skills, on the doorstep of London's vibrant creative scene.

Within one year of graduation, Roehampton graduate salaries for film and photography are 7th highest in the country (LEO 2020).
Course and Module Details
Overview:
Studying Photography at Roehampton means that you'll be on the doorstep of London's vibrant creative scene, with some of the world's leading magazines, agencies, studios and galleries within easy reach.
While developing your photography and technical skills, you'll become adept at using 35mm film cameras, film processing equipment, DSLR cameras, medium and large format cameras, and studio and location lighting.
You'll learn to use all the relevant software packages, including Photoshop and Capture One, as well as developing digital darkroom skills and practical skills, such as project management, presentation and problem solving.
On campus, you'll have access to all the state-of-the-art media facilities housed in the brand-new Sir David Bell media building, including studios, processing equipment and Mac suites.
On the theoretical side, we'll explore contemporary and historical photographic practices and their diverse uses in cultural fields such as journalism, fine art, fashion, editorial, advertising and web design.
You'll learn about the relationship between photography and disciplines such as cultural studies, anthropology and philosophy; and become familiar with the work of key theorists and practitioners involved in the ongoing development of the field, such as Roland Barthes, and Broomberg and Chanarin.
Central to the course is the development of your own portfolio of work. For the past seven years, final-year students have exhibited their work at Free Range in Brick Lane, which provides an ideal platform for exposure, as well as opportunities to meet vital industry contacts.
We offer opportunities to explore career options, so you can assess your choices, evaluate your strengths and weaknesses, and learn how to present an excellent application. There are also opportunities to undertake a work placement.
Extended degree (4 years)
This course is offered as an extended degree - a four-year programme which provides an additional 'foundation' year at the beginning of the degree, that will give you academic and practical experience, as well as the skills you need to ensure you are equipped to successfully complete your chosen degree.
Find out more about our extended degrees .
During the foundation year, you will take modules in English and Maths which will develop your core academic and study skills. The syllabus includes a year-long module relevant to your chosen degree subject, such as Communication and Representation Essentials. This will provide you with a subject specific knowledge in Photography which is essential for success in your degree.

Start date:
Entry tariff:
September 2022 entry: 64 points
UCAS Code:
W641
Modules
The following modules form the foundation year of this degree.
Tuition fees and funding
September 2022 entry tuition fees
Year 1 fees, see links in table below for more information.
September 2022 funding
Placement Year
This course offers all students the option to apply for a one-year paid work placement. If you successfully secure a work placement, you will undertake the placement following year two of your programme and return following the placement to complete your studies.
A placement year is the perfect opportunity to implement the skills and knowledge that you will learn in year one and two, while gaining valuable work experience. The opportunity to make connections in your chosen industry will greatly improve your career prospects and equip you with the skills and experience you need to secure graduate-level employment.
The University Careers and Placements team will support you to develop your CV and skills though webinars, workshops and 1-2-1 appointments. You will also benefit from regular communication about available opportunities to aid your placement search.
Please note while the University will support you with your placement search and applications, a placement cannot be guaranteed.
Study Abroad
This course has the option of studying abroad as part of your degree in your second semester of second year.
With Roehampton Abroad scholarships of up to £1,000 and Turing Scheme funding available, you could spend a semester at one of our partner universities across the globe, with destinations including the USA, Australia, New Zealand, Asia and Europe.
Find out more about where your degree could take you here.
Career Options
Recent graduates have gone on to work successfully as commercial photographers, fine art photographers, fashion photographers, marketing agents, photojournalists, picture editors, PR agents, studio managers, retouchers, retouching bureau managers and tutors.
How to apply
Undergraduate programmes
How to join us in January or February 2022
To start a degree with us in January or February, complete our direct application form. See our list of January courses.
How to join us in September 2022
If you need any help or advice with your application, or just want to ask us a question before you apply, please do not hesitate to contact us.

Detailed advice on applying for an undergraduate degree is available in the FAQs section below.
International (non-EU) students who do not wish to use the UCAS system can apply directly to us using our online application form. This is available to international students only.
Need help before you apply?
"Our beautiful campus really inspires my work, plus being so close to one of the capitals of the modern photography industry provides plenty of opportunities for me to start my photography career"
Henrik Egeland, Photography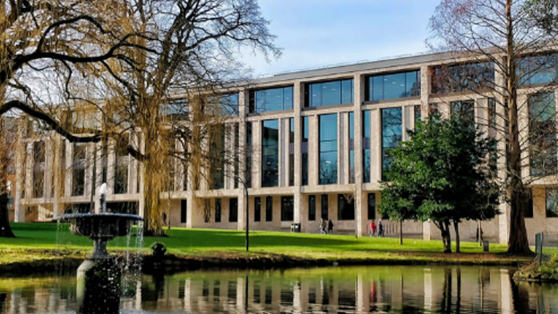 Doing all we can to support our student's lives at Roehampton
At Roehampton, we can offer all new students the opportunity to live in accommodation on our beautiful parkland campus, including affordable and high-end options.
We offer scholarships, provide hardship funding and help you find advice on managing your finances while you study.
We provide plenty of opportunities for you to get involved, through volunteering, playing sport or music, or joining one of our many active student societies.