Sport and Exercise Science
(Pathways in Biomechanics or Physiology) Postgraduate degree
Gain a critical understanding of the key concepts, principles and theories in Sport and Exercise Sciences, and benefit from our connections to leading sporting organisations.
Start Date:
September 2022
Duration:
Full-time: 1 year (12 months)
Part-time: 2-6 years (24-72 months)
Degree Type:
MSc/PGDip/PGCert

Number of credits:
MSc: 180 credits
PGDip: 120 credits
PGCert: 60 credits
School:
Specific entry requirements
Normally a 2:2 or higher Bachelor degree in Sport Science/Studies, Human Nutrition, Biomedical Sciences or a related science-based degree. Candidates offering appropriate experiential knowledge and skills may also be considered.
Postgraduate, Master's and Doctoral On-Campus Open Evening
Wednesday 9 November 2022, 5–7:30pm
Learn practical skills and advanced laboratory techniques in our world-class laboratories.

Have the opportunity to take voluntary work placements at leading organisations. Previous placements include Crystal Palace Football Club, Harlequin's Rugby Football Club Internship and Guy's and St Thomas' Hospital.

Develop broad expertise in Sports and Exercise Sciences, or specialise in Physiology or Biomechanics.

Teaching staff on the programme are comprised of both research active and applied Sport and Exercise Scientists, providing students with in-depth knowledge from theoretical and practical perspectives.

Become part of an active group of researchers, and join departmental seminars discussing the latest sports and exercise research.
Course and Module Details
Overview
Sport and Exercise Sciences is a discipline that has its roots in biomechanics, psychology, physiology and nutrition. This field has developed a great deal over the past century and contributes greatly to our understanding of societal issues, health and disease, and supporting elite performance.
You will have the chance to develop your practical and analytical laboratory techniques in our excellent facilities, giving you a range of transferable skills related to the field to help you excel in either further study or employment.
Using a blend of lectures, laboratory practicals, seminars and workshops you will combine theoretical knowledge and practical skills so that you are well equipped to work in the field of Sport and Exercise Sciences after graduation. Topics covered will include the neuromusculoskeletal system, sport and exercise nutrition, current developments in physiology, advanced laboratory techniques, biomechanics of human movement and the psychology of sport and performance. You can choose to undertake all modules in the core disciplines, or specialise in either Physiology or Biomechanics.
In addition to discipline-specific knowledge, you will develop a comprehensive understanding of research methods, as well as the appropriate approaches to the management of ethical dilemmas within research. You will apply this knowledge to the design of your own research project. This project will allow you to perform focused research in an area of your choice.

These modules are those we currently offer and may be subject to change each year.
Tuition fees and funding
September 2022 entry tuition fees
Year 1 fees, see links in table below for more information.
September 2022 funding
Career Options
This programme successfully prepares graduates to take up positions such as Exercise Physiologists, Biomechanists, Performance Consultants, PhD students, Researchers, Health Care Professionals, Lecturers and Data Analysts. The programme also equips graduates with the transferable and analytical skills for a diverse range of careers outside of Sports and Exercise Sciences.
How to apply
Postgraduate programmes
You can apply now for any programme starting in April or September 2022.

All postgraduate taught applications can be made via our online application form.
If you need any help or advice with your application, or just want to ask us a question before you apply, please do not hesitate to contact us.
International students
Please note that most international applicants have to pay a deposit before securing their place.
See our Finance pages for more details
Postgraduate application process FAQs
Need help before you apply?
Sarah Moudy
Class of 2015: MSc Sport and Exercise Science
I completed my MSc in Sport and Exercise Science under Dr. Neale Tillin in Sept 2015 with a dissertation topic in muscle physiology. I then went onto complete my PhD in Sport Science under Drs. Siobhan Strike and Neale Tillin in June 2019 with a thesis topic in biomechanics.
Currently, I am a Scientist in the Neuroscience lab at NASA Johnson Space Center in Houston, TX. I work as a contractor with Aegis Aerospace (formerly MEI Tech, Inc.) under the Human Health and Performance Contract. I use everything I learned while studying at Roehampton in my current position. Since I completed an MSc and PhD at Roehampton, these both have a large portion of independent research. I had wonderful mentors who questioned everything and made sure I understood every aspect of the research I was doing. I now take this same approach to each project I work on and it ensures that I am doing sound science.
I also learned a variety of skills that were not just taught in lectures, but applied in practice. This hands-on approach was critical in my understanding of the why behind the theory. At Roehampton I also had the freedom to pursue skills that I was passionate about. In particular, I chose to teach myself MATLAB coding which was helped along by my mentors introducing me to their colleagues who could help me learn. We ended up publishing a manuscript from this learning process, which was a key skill in the decision for my hire at NASA.
I am from Texas originally, so NASA has always been nearby. After graduating from Roehampton, I chose to pursue a Postdoctoral position at the University of North Texas Health Science Center. I worked in the Human Movement Performance Lab doing clinical biomechanics research from July 2019 - August 2021. My research focus throughout my PhD and early career was geared towards understanding the impact of high forces on body coordination. This expertise led me to apply for the NASA contract position and ultimately started in the Neuroscience lab in August 2021.
While doing a PhD is stressful, there was a great group of Life Sciences PhD students at Roehampton. We had our own shared office spaces and it was a great way to talk through research. We were in our own building tucked away from the rest of campus with gorgeous views of Richmond Park. It was like our own little world.
Read More +
prev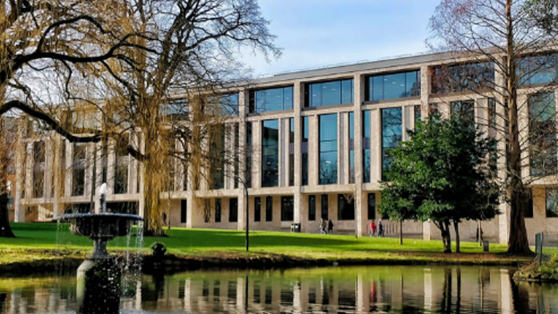 Doing all we can to support our students' lives at Roehampton
At Roehampton, we can offer all new students the opportunity to live in accommodation on our beautiful parkland campus, including affordable and high-end options.
We offer scholarships, provide hardship funding and help you find advice on managing your finances while you study.
We provide plenty of opportunities for you to get involved, through volunteering, playing sport or music, or joining one of our many active student societies.