Southlands Chaplaincy
Flourishing in Faith and Friendship: At Southlands, our chaplains are here to help the community to flourish create spaces and opportunities for those who want them to practice and explore faith; and to promote friendships across our diverse community.
Here for you
As a college community we share in the whole of life and Southlands College strives to be a place that celebrates your joys and achievements and also offer support and space when you face challenges. Whether you are a person of faith or not, our multi-faith Chaplaincy is here to listen, encourage and support you during your studies with us. Your College Chaplain, Rev Nicola Morrison, is available to you throughout the year, as are other members of the Roehampton Chaplaincy Team, especially Sabiha Iqbal (Muslim Chaplain) and our College Community Worker, Hannah Evans who are also members of the Southlands College Team. We will be at college events, both on campus and online, and you can find our regular programme of events online. Check our college and chaplaincy web and social media pages for regular updates on our activities. We are also available for one-to-one conversations should you have questions about faith activities on and off-campus, or just need a coffee and chat. Contact us directly, either in person or using our contact details.
Flourishing in Faith and Friendship

Sabiha, Nicola and Hannah are members of the College staff team as well as the univeristy's multi-faith chaplaincy team.
Spaces
There are a number of spaces in Southlands College, that you can use for quiet time, reflection, mindfulness and prayer. Information about the activity of the wider Roehampton Chaplaincy Team can be found in these spaces

The Well (Chapel and Chaplaincy Centre)
This is the round building situated by the lake. The Well is open weekdays and you are welcome to drop in anytime. This is a space for all our students to come and spend time in a place of peace and to meet and socialise with other students. There are tea and coffee making facilities here and a small garden to enjoy. The Well is a place that promotes wellbeing and is home to 'Living Well' creative projects and exhibitions, a space for music rehearsals and a venue for community activities. It is also a place where you can engage with social justice issues, such as Fairtrade, climate change and equality. Alongside these things The Well remains a setting for spiritual reflection and prayer rooted in the Methodist tradition, which is the founding body of Southlands College, and is a space that gently invites people to think about questions of faith.
Prayer Rooms
These are located on the ground floor of Queen's Building (QB). The prayer rooms are accessible with your ID card throughout the day, and people of all faiths are very welcome to use them. Each room provides space to pray, relax, read, and contemplate. These rooms are rooted in the Islamic tradition and therefore there is a dedicated space for brothers in room QB054, and for sisters in QB029 and QB055. There are also prayer rooms located at Froebel College, Digby Stuart College and Whitelands College. Please see the Chaplaincy website for further details and a map. Friday Jummu'ah prayer takes place on campus for Muslims, as well as a vast array of activities that includes the wider community. For further details please see our social media platforms or email Sabiha (Muslim Chaplain).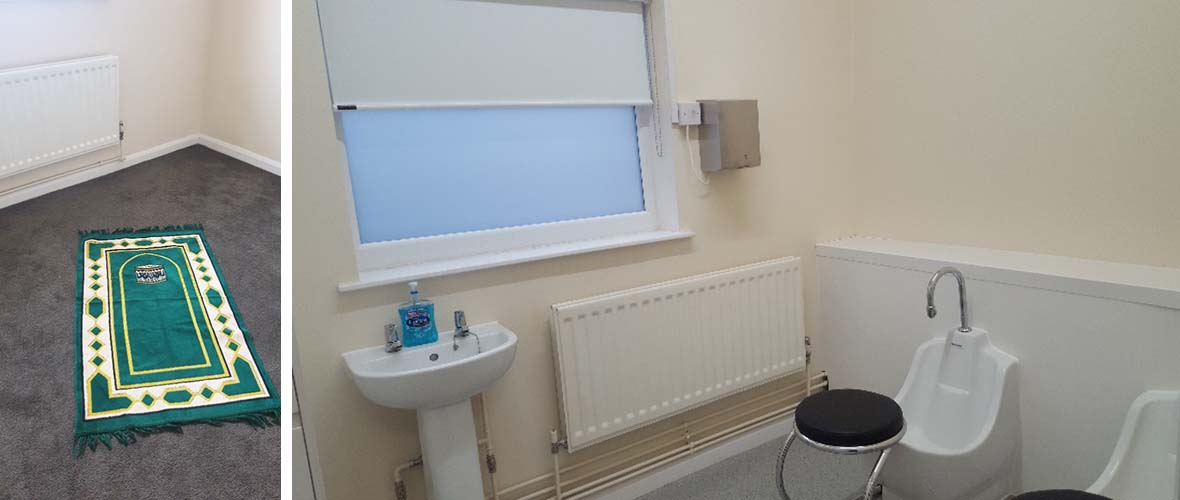 Islamic prayer rooms have prayer mats available and copies of the Holy Quran (left) and Ablution facilities (right) can be found on campus.
Why Chaplaincy?
Southlands was founded and is still supported by the Methodist Church which is characterised by openness and inclusivity. Methodism has a strong focus on building community and supporting social action and this heritage remains something that continues to enrich our community in all its diversity. Here at Roehampton we are delighted that our Chaplaincy provision offers support for people across a range of faith traditions, reflecting the heritage of the four colleges and the identities of our students today. We are committed to exploring ecumenical and inter-faith work across the campus and to demonstrating the common commitments of all faiths to nurturing a happy and supportive community.
Social Media
Stay up to date with activities by following us on social media, these are our official accounts:
Facebook
Roehampton Chaplaincy
Southlands Chapel
Twitter
RoeChaplaincy
Instagram
@RoeChaplaincy
Chaplaincy Spaces
The map below illustrates the variety of prayer, worship and relaxation spaces affiliated to the Roehampton Chaplaincy team.
Map is also available here.