2022 marks the 150th anniversary of the foundation of Southlands College.
Southlands College celebrated its 150th anniversary in style this summer with a series of high-profile events to mark its landmark year. Highlights included a thought-provoking conference on sustainability and spirituality that concluded with the planting of a landmark tree and a gathering of local and university dignitaries, and a major alumni reunion on Saturday 2 July.
Events began on 30 June with a conference entitled 'Sustainability: Sharing Values, Creating Communities', hosted jointly by the Susanna Wesley Foundation and the Faculty of Business and Law, both part of Southlands College. It drew around 100 delegates to hear talks by three of Britain's leading environmental activists and academics, Professor Alastair McIntosh, Professor Robert Beckford, and Professor Molly Scott Cato who is based at Roehampton.
Professor McIntosh talked of encouraging students with sense of 'calling' in their studies to identify and encourage future leaders and innovators with a passion for sustainability. Professor Beckford highlighted the enduring damage done by the injustices of colonialism and their lingering effects on environmental inequality. Professor Scott Cato inspired delegates with stories of her recent visit to the Glastonbury Festival, a place where a thriving and positive community spirit flourishes. All three speakers underlined the need for students to reflect on what it is to be human and to connect with their ethical values, a point thoughtfully picked up and amplified by Professor Sunitha Narendran, Dean of the Faculty of Business and Law.

Delegates were not only treated to a day of stimulating and engaging conversation, but also sampled some food grown on the university campus, introduced by the Growhampton project co-ordinator Ollie Cem. The conference ended with the planting of a wild cherry tree, a short service led by the college's Methodist chaplain Revd Nicola Morrison. The tree is situated on the left of the drive into college, just past the bike shed at the front of the buildings, with a memorial plaque alongside.
Following the conference, a gathering of dignitaries met at Grove House, with guests including senior Methodist leaders, the university's chancellor and vice-chancellor, Methodist minister and politician Lord Leslie Griffiths, and the local MP Fleur Anderson. Two of the talks from this gathering are available online: Professor Jean-Noël Ezingeard, Vice-Chancellor, and Phil Walker, chair of the University of Roehampton's Council. Guests heard about the launch of the Transformation Fund. The fund designed is designed to raise money both for a redevelopment of Southlands College in ways which create collaborative and inclusive spaces for students, and which also open the college up to the local community. The Fund also aims to offer bursaries to students to reduce the financial barriers which prevent the less advantaged in society from entering Higher Education.

Later in the week, there was also a chance for alumni to gather and celebrate their own association with Southlands, with a major reunion of former students held on July 2. This event saw more than 200 past students come together, with a service in Digby Stuart Chapel and a celebratory lunch at Southlands itself. One of the alumni who attended is 104-year-old Freda Smith (née Walton), who trained at Southlands College in the 1930s. You can view the pictures from the event by clicking here.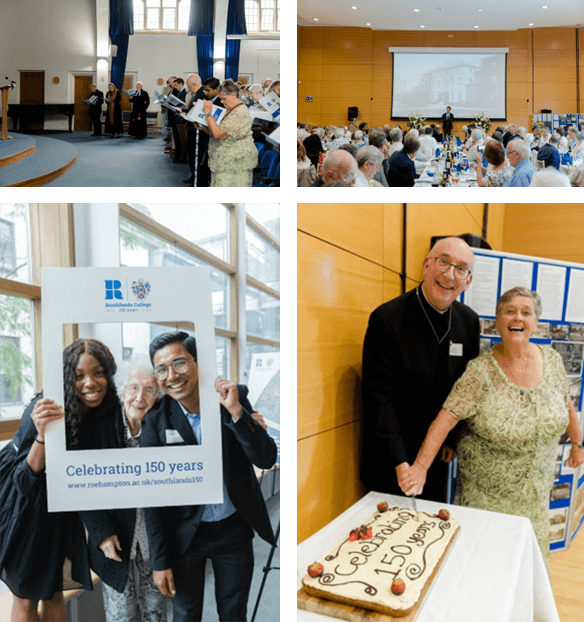 Another highlight of the celebrations is a photo exhibition displayed on the first floor of the Queen's Building, with pictures from as early as 1877 set alongside an array of images from the college's long history. It will remain on display as the college continues celebrating its anniversary year.
During its week, the college also played host to a party of distinguished Presidents and guests from US Methodist universities and the American Higher Education sector. As well as participating in the college's 150th events, vsitors were shown a range of landmarks linked to Methodist heritage around London and Cambridge.
The summer celebrations followed on from an anniversary lunch held at the start of the year on 26 February, which is the exact date of the college's foundation in 1872. Originally based at a site in Battersea, long since demolished, Southlands began as a Methodist teacher training college for women. It moved to Wimbledon Parkside in 1930 and in the 1990s accepted an ecumenical offer to build its current site on land owned by Digby Stuart College, opening its new college buildings in 1997. This partnership of four colleges ultimately evolved into the University of Roehampton in 2004. As events throughout the week demonstrated, the college works hard to keep alive its church heritage by nurturing and embodying a sense of social responsibility among students, alongside other values.
Dr Christopher Stephens, Head of College, describes the anniversary year as a chance to celebrate but also to look forwards: "Celebrating our foundation is an opportunity to reflect on the historic value of the Methodist Church's mission in higher education and to consider how that mission can be relevant and important for our students today. As they look ahead to a challenging future, we hope that the underlying Methodist values espoused by Southlands College can help shape our students to be leaders in a society committed to inclusivity, to social justice and to building a better world for us all."
For details about the Transformation Fund, click here.