How we spend
For every £ we receive this is how we spent it in 2018-19
Did you know?
Every penny we make we spend on improving the student experience, including providing high quality teaching, world-class facilities (and general upkeep) and a wide range of student support services. We also support our large cohort of commuting students by providing lockers and tailored facilities such as college social spaces, complete with fridges and microwaves. We also provide 24/7 student study support through 'Studiosity' and a dedicated free bus service to and from the University.
The largest portion of our outgoings are spent on delivering teaching to our students and conducting research: 47p in every £1.
We spend this money on teaching costs, course materials and academic staff development, to ensure our students receive the highest quality of teaching.
Our courses offer fantastic opportunities for all of our students, with a focus on equipping them with the skills they need to succeed in the workplace. We also offer students the chance to study abroad, access to language courses and our excellent teaching and learning facilities.
Did you know?
University fees are not just about funding your course. The funding they provide is vital for ensuring Roehampton students have an excellent student experience.
Our funding allows us to provide students with access to a wide range of support services, including welfare support, financial guidance, mental health support and extensive learning support. They also allow us to provide students with access to sports and music facilities.
Over the last 5 years we have invested over £120 million on redeveloping and transforming the university campus including measures to reduce the university's carbon footprint.
The university now has a world-class Library, which has state of the art facilities, hundreds of thousands of books, a wide range of computer suites and 1200 study spaces, including private rooms for group work and quiet areas where students can study individually. We have funded these essential projects to provide excellent, high-quality working environments that enhance the student experience.
We are also investing in the future. We have already begun work on a multi-million pound refurbishment of our Media and Digital Technology facilities, which will provide state-of-the-art facilities for film production and digital media programmes and additional facilities for all students. Working with architects and consultants we have developed a design which will have sector-leading learning and teaching facilities and industry-leading technology.
In September 2020, following the second phase of the refurbishment works, the building and facilities will be fully open to all students.
In addition, we spend over £1 million annually on our teaching facilities, lecture rooms and learning resources. This is designed to ensure that our students, on all of our courses, get the best learning experience possible.
Where does our money come from?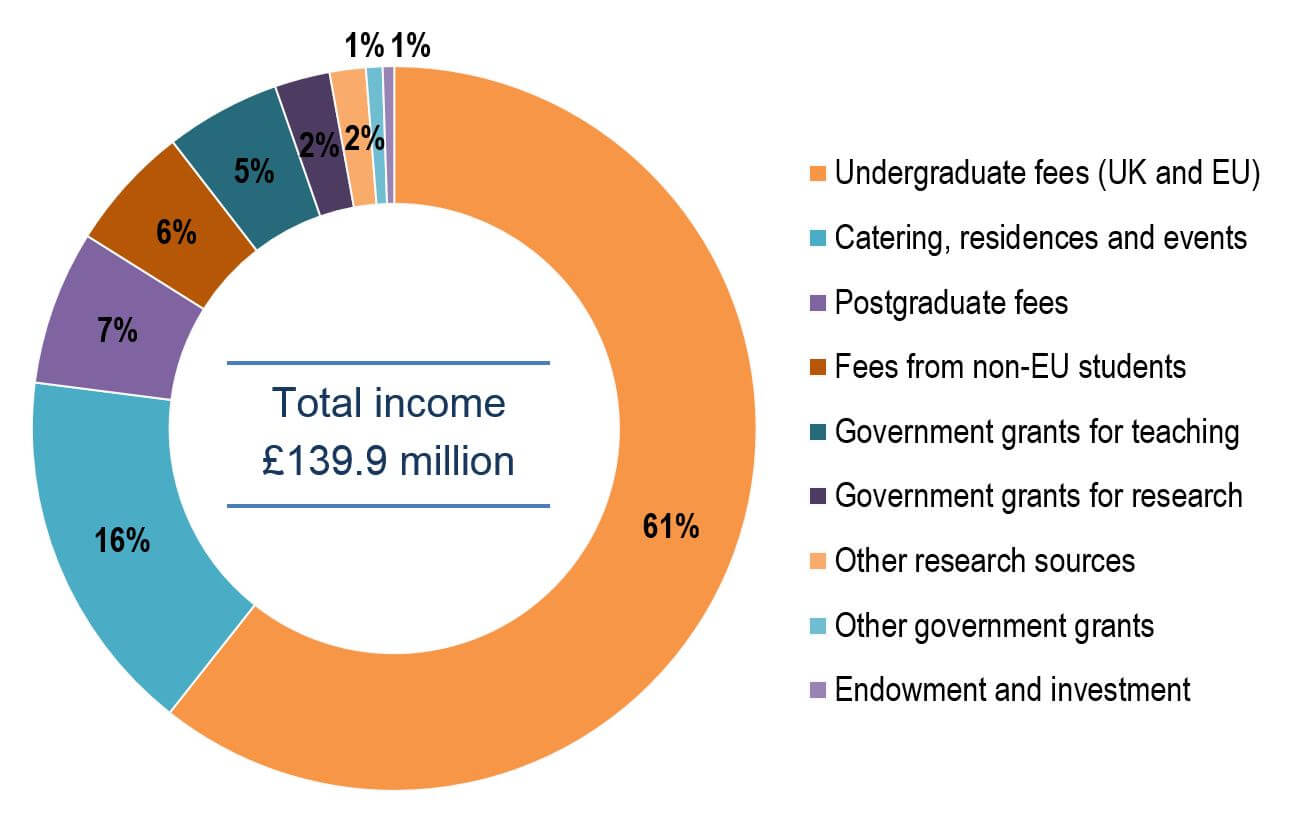 University fees are not the only source of income that Roehampton receives. Government funding, income from halls, catering, business partnerships and research grants also contribute to our overall income.
All of these funds are reinvested into the university to enable us to continue to provide an outstanding environment for our students and staff.
For more information on the university's financial statements click here.