How Roehampton Esports is fighting Coronavirus with computing power
All 20 gaming PCs at Roehampton Esports Arena are being used to help researchers at Stanford University better understand how the coronavirus works.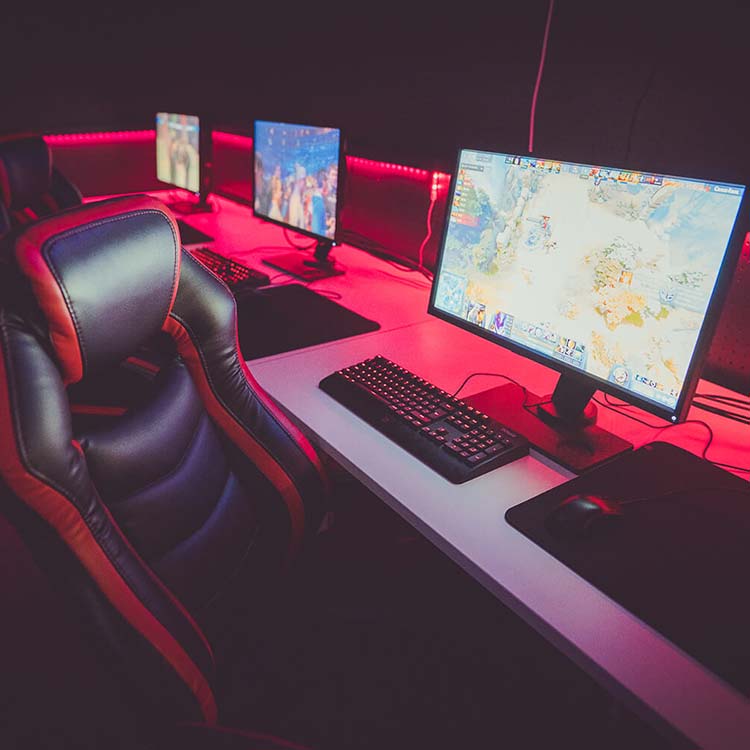 Roehampton's Esports Arena boasts 20 powerful gaming machines for our students to use both for relaxing and for competitive gaming, but even in normal times there's a lot of processing power going unused.
That's why our esports team has joined the Folding@home project to help with research into SARS-CoV-2, the coronavirus that causes COVID-19.
Folding@Home is a distributed computing project for disease research that simulates protein folding, computational drug design, and other types of molecular dynamics. The project uses the idle processing resources of computers owned by volunteers (in this case, the University) who have installed the software on their systems. Its main purpose is to determine the mechanisms of protein folding, which is the process by which proteins reach their final three-dimensional structure, and to examine the causes of protein misfolding. This is especially useful for medical research into Alzheimer's, Huntington's and many forms of cancer, as well as coronavirus.
A single machine at the Roehampton Esports Arena might not have a big impact on scientific research and is not able to compete with supercomputers, but when it joins the massive network of Folding@home volunteers, it becomes a part of one of the world's fastest computing systems. Pande Lab has produced 223 scientific research papers based on the results from Folding@home output since its launch in 2000 and now they have their sights on coronavirus.
Folding@home award points so that volunteers can easily track how much they've contributed to the project. Roehampton's first goal of contibruting 1 million points was achieved at the weekend. The next goal is 10,000,000 points.
Roehampton Esports put out a call to action and invited students across the country to join the project. A large number of student societies and esports organisations are joining the project with their home gaming PCs.
To find out how to join the project, watch the video below.
The Roehampton Esports Arena is powered by Zowie and is equipped with 240hz monitors and top-tier peripherals. The machines working on the project are all running i7-7700k CPUs and GTX 1080 graphic cards. Find out more here.
At Roehampton, we're doing everything we can to help staff, students and the broader community cope with the global coronavirus pandemic.