Art Psychotherapy
Postgraduate degree
Develop the skills, practical experience, and confidence to begin a rewarding career as a professionally-qualified and registered art psychotherapist.
Start Date:
September 2023
Duration:
2 years (full-time)
3 years (part-time)
Number of credits:
180 (subject to validation)
School:
Specific entry requirements
Applicants will normally be required to hold a good degree (second class and above), usually in arts and design. Other disciplines such as psychology, teaching, nursing, the humanities, and graduate level professional qualifications in appropriate disciplines such as Occupational Therapy and Social Work are also considered.
Applicants need to evidence that they can meet the academic demands of a Masters degree and will be required to prepare and submit a written personal statement to support their application.
All candidates must present a portfolio of their art work at interview. For the purposes of online interviewing, we request that the portfolio is uploaded alongside the rest of the application. The art portfolio should demonstrate the applicant's psychological and emotional exploration of self through the art making process. All the plastic arts and electronic media are welcome at the interview. The brief for the portfolio is deliberately vague for applicants to bring their own understanding of what it means to be a practising artist. The portfolio should demonstrate a strong comment to their artistic practice along with a fluidity of self expression within a variety of mediums. International applicants are asked to provide an e-portfolio link within their application form to any appropriate online repository.
Applicants should demonstrate a maturity of personality and self-awareness compatible with training as a therapist. Applicants need an appropriate degree of psychological mindedness including the capacity to form and maintain appropriate empathic relationships with clients. They should also demonstrate emotional literacy, robustness and an ability to be self-reflective. This is addressed through a combination of assessments, including a health screening form, searchingquestions at interview related to different parts of the training and experiential work.
Applicants will be expected to have appropriate clinical experience of having worked within the past five years within a setting and with clients relevant to the Programme. This might include working with children, adults or older adults in the areas of learning disabilities, mental health, hospice care, dementia care, neuro-disability, homelessness etc. (this is not an exhaustive list). This work can be undertaken either on a voluntary or employed basis.
An International English Language Testing System (IELTS) score of at least 7 with no element below 6.5 for applicants for whom English is not their first language.
Applicants will be required to supply the names of two referees, normally one of these should be able to comment on the applicant's academic suitability and the other the applicant's clinical suitability for the programme. References are always taken up prior to offering a place.
In addition to these requirements, all students must be prepared to enter mandatory individual personal therapy. Payment for therapy is separate to course fees.
All successful applicants will need to complete an enhanced Disclosure and Barring Service (DBS) check. Payment for this is separate to the course fees.
We also offer 20 week evening foundation courses which provide a broad oultine and introduction in the arts and play therapies.
University of Roehampton London is ranked top 10 in the UK for postgraduate student satisfaction (PTES 2022)
Build a rewarding career as a professionally-qualified and State registered Art Psychotherapist. Graduates are able to apply for registration with the Health and Care Professions Council (HCPC).

Our School of Psychology is the only one in Europe to offer training in all of the arts and play therapies, including dramatherapy, art and dance movement psychotherapy, music and play therapy.

Benefit from our established network of art psychotherapists and gain work experience in supervised clinical placements. 

Practice in a bespoke Art Psychotherapy studio.

Follow a syllabus informed by Carl G. Jung's pioneering theories on analytical psychology.

Gain from unique opportunities to learn and connect with students across all arts and play therapies.
Course and Module Details
Overview
This course is designed for experienced artists and professionals who have worked within a clinical setting and would like to build a rewarding career as an art psychotherapist.
You will be taught by leading experts who will equip you with the skills, experience, and confidence to work as an art psychotherapist in challenging, yet rewarding environments. Our graduating students are eligible to apply for registration with the Health and Care Professions Council (HCPC). Registered practitioners work in a variety of different settings including psychiatric hospitals, social services, special education, prisons and the voluntary sector.

Our comprehensive programme is divided into three areas covering theory, experiential learning and work placement experience. The theoretical aspect covers child developmental and psychodynamic principles alongside art therapy theory and Jungian analytical psychology. This perspective is located within the larger field of analytical psychotherapy and provides you with an in-depth theoretical underpinning that informs clinical practice.

A vital part of the programme is a supervised clinical placement which allows you to complete one hundred mandatory days of practice during your training. Placements are available in a variety of settings that include mental health (both in the NHS and other psychiatric hospitals and day centres), disabilities services or in hospitals or social services, special education, or a range of other settings.
Our full-time course starts with an intensive week followed by two taught days, two further days of clinical placement and one day for studio practice per week. The part-time route starts with an intensive week followed by one day per week in University and a minimum of one further day on clinical placement. You will also attend weekly personal therapy which is compulsory to become a professional registered practitioner.
We also offer introductory courses which provide a useful background in related professions. For more information on our Introduction Courses, Summer Schools and Foundation Course in Art Psychotherapy, see our Psychology Short Courses. 
Course subject to curriculum review

These modules are those we currently offer and may be subject to change each year.
Indicative Timetable
Students on this course are normally in Monday and Tuesday all day.
Contact us for further information.
Tuition fees and funding
September 2023 entry tuition fees
Full-time (2 years)
UK
EU and International

Total fees for the course


£20,000

Total fees for the course


£33,000
Part-time (3 years)
UK
EU and International

Total fees for the course


£20,000

Total fees for the course


£33,000
2023/24 entry funding
Career Options
Graduates go on to work as art therapists in fields including healthcare, education, adult mental health and the third sector. They work in multidisciplinary teams, collaborating with psychiatrists, psychologists and other mental health professionals.
How to apply
Postgraduate programmes
You can now apply for any programme for any entry point in 2023.
All postgraduate taught applications can be made via our online application form.
If you need any help or advice with your application, or just want to ask us a question before you apply, please do not hesitate to contact us.
International students
Please note that most international applicants have to pay a deposit before securing their place.
See our Finance pages for more details
Postgraduate application process FAQs
Short Courses
We also offer weekend introductory courses, 5 day Summer Schools, and 20 week part time evening Foundation Courses which provide a useful background in related professions. For more information, see our Psychology Short Courses.
The Theo Gimbel Charity Trust Funding Support
The following provides instructions to apply financial support for studying either part time or full time on the University of Roehampton MA Art Psychotherapy course.
Please note that enrolment will not be complete until payment details have been provided. Failure to complete the enrolment process will result in the application to the University of Roehampton being delayed and/or terminated.
Entry information:
Amount awarded is at the discretion of Theo Gimbel Charitable Trust Ltd.

For application deadlines, please contact 

Martin Stubbs

Year of entry is the new academic year commencing in September. Applicants need to apply prior to staring the programme.

Eligibility

: 

If you have an unconditional firm offer from the University, you will be eligible to apply.
How to apply:
Write a cover letter (no longer than 1 page) stating why financial support is required and your experiences related to your application. This may include voluntary experiences, areas of strength and development, along with your career goals.

Include your CV that details your education and work experience to date.

Provide two professional references.
Send your application to:
Martin Stubbs, Director, Theo Gimbel Charitable Trust Ltd at: mstubbs101@me.com
Terms and Conditions:
Please note that the Trust do not support funding for living costs.

The University of Roehampton does not provide this funding and therefore is not responsible for the application funding decisions.

Please note that the correspondence is solely between the applicant and the Trust. For any questions in applying for this opportunity, please contact the Theo Gimbel Trust Ltd.

In order to become a fully enrolled student at the University of Roehampton, applicants must complete all the necessary academic requirements and make arrangements to pay all fees as directed by the University. Tuition fees are due for payment at the start of each academic year, or the start of each enrolment period for non-standard start dates as detailed in Section 5.1, Self-funding Student or the University's Student Fee Payment & Enrolment Regulations. Please see more information on the 

finance pages

.

Applicants or continuing students in receipt of funding, either in full or in part by a private sponsor, such as a commercial or charitable organisation, must provide an official letter of sponsorship to the University. This is to be provided prior to or during, the enrolment period and should be an official letter of be an official letter of sponsorship on the organisations headed paper signed by an authorised signatory of the sponsor. The letter should include the invoice address, contact details and name of the official contact of the sponsor, your full name and the amount of the sponsorship.
The University will invoice the sponsor directly and payment must be made in full within 30 days from the date of the invoice.

Parents, family members or friends are not classed as sponsors.

Should the sponsor default on payments or withdraw funding, the responsibility will fall upon the student to pay the fees. In which case the student must contact the Finance Department and make acceptable arrangements to pay any outstanding fees promptly.
Validation and curriculum review
What is validation?
Validation is a formal process through which the University approves a programme (content, teaching, learning and assessment) as being of appropriate standard and quality. This is a normal process used throughout the university sector.

The University expects to publish details of the validated programme in the academic year prior to the start date of the programme. You are advised to check the University website at that time to ensure that you have up-to-date information. In the meantime, if you require information you should contact 0208 392 3232.
What is curriculum review?
Curriculum review is the regular and systematic monitoring and reviewing of programmes. It is a normal process in the sector and it is the way by which the university ensures that your course remains up-to-date and relevant. The process may result in changes to the content, structure and/or assessment of the programme.

The University expects to publish details of the re-validated programme by 31 March in the academic year prior to the start date of the programme. You are advised to check the University website at that time to ensure that you have up-to-date information. In the meantime, if you require information you should contact 0208 392 3232.
Need help before you apply?
"I found that the placement experience, experiential and academic learning has grounded me as I work towards being a fully trained accredited member of the British Association of Art Therapists and Health Care Professional Council. This course has been a life changing experience and I have grown in confidence."
Rita Vimila Thomas, MA Art Psychotherapy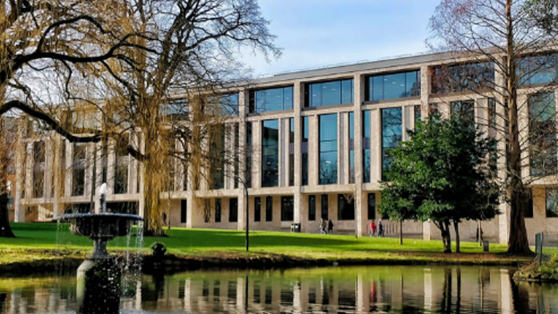 Doing all we can to support our students' lives at Roehampton
At Roehampton, we can offer all new students the opportunity to live in accommodation on our beautiful parkland campus, including affordable and high-end options.
We offer scholarships, provide hardship funding and help you find advice on managing your finances while you study.
We provide plenty of opportunities for you to get involved, through volunteering, playing sport or music, or joining one of our many active student societies.