Choreography (MFA)
Postgraduate degree
Develop your choreographic identity over two full years as part of a creative, collaborative and supportive environment.
Start Date:
September 2023
Number of credits:
240 credits
School:
Specific entry requirements
Applicants are required to provide and upload or post a DVD of one recent group choreography for this course. The work should be accompanied by a short statement which reveals the applicant's intention and interest in making this particular work.
University of Roehampton London is ranked top 10 in the UK for postgraduate student satisfaction (PTES 2022)
Roehampton is rated No. 1 for dance research in the UK (Research Excellence Framework 2014).

We have an impressive national and global reputation, which attracts students and dance artists from all over the world.

Study with artists and teachers with a wealth and range of choreographic experience.

The best of both worlds: study in a green and peaceful environment with easy access to central London's cultural attractions.
Course and Module Details
Overview
As an emerging or experienced choreographer, this MFA course will help you refine your artistic practice by advancing your creative, technical and performance skills. The programme includes technique classes, choreography workshops, laboratory sessions, dialogue, writing and reflection. You will be encouraged to experiment and take risks in a series of self-directed choreographic projects that help you develop a portfolio of work.
You will be supported by the mentorship and teaching of experienced staff in our modern studios and well-equipped performance theatre. Study with highly experienced in-house and visiting artists and tutors alongside a creative community of peers.
In year one, you will take the compulsory taught module, Ways of Knowing, shared with two compulsory programme specific modules (Choreography and Dance Practice) which are both year-long. In Ways of Knowing, you will be introduced to research methods, including ethnography, dance analysis and practice-as-research. Choreography uses a collaborative and constructive laboratory environment to enable you to interrogate your existing choreographic practice. Dance Practice provides a framework for you to explore movement potential using a variety of approaches and techniques.
In year two, there is flexibility to choose between modules to suit your interests alongside your core module called Choreographic Thesis. In this module, you will have an independent choreographic vision using original research which is underpinned by tutorials, peer review and open rehearsals.
The School is home to the internationally recognised Centre for Dance Research, which foregrounds the research of dance as cultural and artistic expression as theatre performance and beyond. Through seminars, forums and conferences involving staff and international invited guests, the Centre supports a compelling research culture.
We also have excellent links with dance companies and creative organisations. In easy reach of London's vibrant dance scene, the campus has superb studios and a state-of-the-art theatre for dance students.
Course subject to curriculum review

These modules are those we currently offer and may be subject to change each year.
Indicative Timetable
Students on this course are normally in all day Monday (Spring), All day Thursday (all year) and either Tues/Weds/Friday Dance Practice.
Contact us for further information.
Tuition fees and funding
September 2023 entry tuition fees
The below fees are the total cost for this course and cover both year 1 and year 2.
Full-time (2 years)
UK
EU and International

Fees per year


£TBC

Fees per year


£TBC

Total fees for the course


£13,750

Total fees for the course


£23,500
2023/24 entry funding
Career Options
Graduates from this programme can be found working as independent artists in London, Berlin and New York; presenting their work at a number of venues in London and at the Edinburgh and Stockholm Fringe Festivals; teaching in higher education in the UK and abroad; and curating programmes and events for dance artists across Europe.
How to apply
Postgraduate programmes
You can now apply for any programme for any entry point in 2023.
All postgraduate taught applications can be made via our online application form.
If you need any help or advice with your application, or just want to ask us a question before you apply, please do not hesitate to contact us.
International students
Please note that most international applicants have to pay a deposit before securing their place.
See our Finance pages for more details
Postgraduate application process FAQs
Validation and curriculum review
What is validation?
Validation is a formal process through which the University approves a programme (content, teaching, learning and assessment) as being of appropriate standard and quality. This is a normal process used throughout the university sector.

The University expects to publish details of the validated programme in the academic year prior to the start date of the programme. You are advised to check the University website at that time to ensure that you have up-to-date information. In the meantime, if you require information you should contact 0208 392 3232.
What is curriculum review?
Curriculum review is the regular and systematic monitoring and reviewing of programmes. It is a normal process in the sector and it is the way by which the university ensures that your course remains up-to-date and relevant. The process may result in changes to the content, structure and/or assessment of the programme.

The University expects to publish details of the re-validated programme by 31 March in the academic year prior to the start date of the programme. You are advised to check the University website at that time to ensure that you have up-to-date information. In the meantime, if you require information you should contact 0208 392 3232.
Need help before you apply?
Research conducted in the School of Arts and Digital Industries covers a wide range of diverse and innovative arts practices, from dance and drama to journalism, film, media, linguistics and computing. Our School of Arts and Digital Industries is divided into three subject areas: Dance; Drama, Theatre and Performance; and Communication, Culture and Media. Click here to view our research page.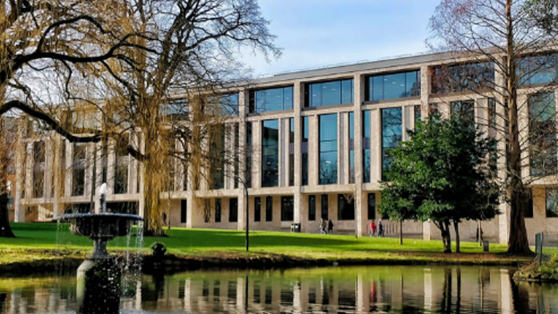 Doing all we can to support our students' lives at Roehampton
At Roehampton, we can offer all new students the opportunity to live in accommodation on our beautiful parkland campus, including affordable and high-end options.
We offer scholarships, provide hardship funding and help you find advice on managing your finances while you study.
We provide plenty of opportunities for you to get involved, through volunteering, playing sport or music, or joining one of our many active student societies.