Dance Movement Psychotherapy
Postgraduate degree
Build a rewarding career as a professionally-qualified registered dance movement psychotherapist. Graduates are eligible to register with the Association for Dance Movement Psychotherapy UK.
Start Date:
September 2023
Duration:
2 years (full-time)
3 years (part-time)
Number of credits:
180 (subject to validation)
School:
Specific entry requirements
All eligible applicants to the programme will be interviewed/auditioned by the Programme Coordinator with Programme staff. Selection will be based on the following admissions criteria:
Applicants will normally be required to hold a good second-class honours degree (or above); in most cases this will be in a dance-related discipline or a clinically related discipline such as Dance, Psychology, Mental Health (Psychiatric) Nursing, or Social Work etc. Alternatively graduate level professional qualifications in appropriate disciplines such as Dance, Drama, Performing Arts, Occupational Therapy, Probation Officers or Social Work, are also accepted.
Applicants must attend an admissions day which includes experiential work and an interview, or a skype interview for international applicants.
Applicants will be expected to have prior appropriate clinical experience of having worked within a setting and with clients appropriate to the programme. Normally applicants will be expected to have a minimum of 1 year prior clinical experience. This might include working with children, adults or older adults in the areas of learning disabilities, mental health, hospice care, dementia care, neuro-disability, homelessness, addictions etc (this is not an exhaustive list). This work can be on a voluntary or employed basis.
It is expected that applicants will have prior movement and dance movement experience either having worked professionally in a dance movement/performance context or having practiced continuously for a minimum of 2 years prior to training. Knowledge and experience of at least two dance movement techniques/styles is required.
Applicants should also demonstrate personal qualities considered important to train as a therapist, such as their capacity to form and maintain appropriate empathic relationships with clients. They should also demonstrate emotional literacy and robustness and an ability to be self-aware and open.
Applicants will be required to supply two completed references within their application; normally one of these should be able to comment on the applicant's academic suitability and the other the applicant's clinical suitability for the programme.
In addition to these requirements, all students must be prepared to enter mandatory on-going personal therapy for the duration of the programme.
All applicants' movement capacity will be ascertained as part of the interview.
We also offer 20 week evening foundation courses which provide a broad oultine and introduction in the arts and play therapies.
Personal Statement
The typed personal statement (approx 500 words) should cover the following main areas:
What has led you to wish to train as a therapist at this time?
How does this connect with your dance background, experience and hopes for the future?
what is your experience of how dance movement may enhance lives and facilitate change? (Specific reference to work or volunteering with vulnerable people is helpful).
Mention relevant courses, conferences and reading, any meetings with dance movement or other therapists.
The personal statement is also an indication of how well you express yourself in writing and helps us to identify any needs for specific support and development before or during the programme.
University of Roehampton London is ranked top 10 in the UK for postgraduate student satisfaction (PTES 2022)
Graduates are eligible to register with the Association for Dance Movement Psychotherapy UK (ADMP UK) and become professionally-qualified registered dance movement psychotherapists.

Benefit from our established network of psychotherapists and gain work experience within a supervised clinical placement in a range of settings.

Our School of Psychology is the only one in Europe to offer training in all of the arts and play therapies, including dramatherapy, art and dance movement psychotherapy, music and play therapy.

Gain from unique opportunities to learn and connect with students across all arts and play therapies.
Course and Module Details
Overview
This programme is designed for people who have prior dance experience and professional or volunteering experience with people in need, and would like to practise as a dance movement psychotherapist.
Dance movement psychotherapy is a relational process in which a client and therapist engage in an empathetic creative process using body movement and dance to assist the integration of emotional, cognitive, physical, social and spiritual aspects of self. We believe that focusing on the creative potential of individuals in a relationship creates a sound ethical basis for psychotherapeutic work.
You will be taught by leading experts who will equip you with the skills, experience, and confidence to work as a dance movement psychotherapist. All graduating students are eligible to apply for registration with the Association for Dance Movement Psychotherapy (ADMP UK). Graduates often create their own positions; facilitating dance movement psychotherapy sessions within settings including: social services; special needs; schools; psychiatry; probationary and rehabilitation units; forensic psychiatry.
Our uniquely interdisciplinary MA Dance Movement Psychotherapy integrates theoretical, experiential and clinical learning, preparing students to practice as dance movement psychotherapists. Practice-based research cascades into teaching emphasising the social, biological and psychological construction of the moving body and meaning-making. The programme offers opportunities for you to explore and expand movement preferences, ways of interacting with others, belief systems, prejudices and values. Emphasis is placed on development of your own style as a dance movement psychotherapist. You also have the opportunity to perform and exhibit your ongoing work in a yearly Arts Therapies exhibition.
The MA in DMP benefits from tutors' practice-based research, which feeds directly in teaching.
The programme ethos emphasises a critical consideration of different descriptions and explanations of bodies, human systems and therapeutic practices in different places and times. In the context of an individual student's experiences, beliefs, values and different 'cultures', our teaching actively promotes a participatory ethic, self-reflexive practices and the ability for critical reflection on: creative processes, intersubjectivity and the construction of social and power differentials, in learning and in psychotherapy.
Course subject to curriculum review

These modules are those we currently offer and may be subject to change each year.
Indicative Timetable
Students on this course are normally in Tuesday and Wednesday all day.
Contact us for further information.
Tuition fees and funding
September 2023 entry tuition fees
Full-time (2 years)
UK
EU and International

Total fees for the course


£25,000

Total fees for the course


£36,000
Part-time (3 years)
UK
EU and International

Total fees for the course


£25,000

Total fees for the course


£36,000
2023/24 entry funding
Career Options
Graduates can enter a variety of roles including: NHS clinical practice within in and outpatient services, community services, prison services, special needs schools, performing arts contexts, drug rehabilitation, in social services with immigrants and asylum seekers, in shelters with women who have suffered domestic abuse, dementia services, learning disabilities services, child and adolescent mental health services.
How to apply
Postgraduate programmes
You can now apply for any programme for any entry point in 2023.
All postgraduate taught applications can be made via our online application form.
If you need any help or advice with your application, or just want to ask us a question before you apply, please do not hesitate to contact us.
International students
Please note that most international applicants have to pay a deposit before securing their place.
See our Finance pages for more details
Postgraduate application process FAQs
Short Courses
We also offer weekend introductory courses, 5 day Summer Schools, and 20 week part time evening Foundation Courses which provide a useful background in related professions. For more information, see our Psychology Short Courses.
Validation and curriculum review
What is validation?
Validation is a formal process through which the University approves a programme (content, teaching, learning and assessment) as being of appropriate standard and quality. This is a normal process used throughout the university sector.

The University expects to publish details of the validated programme in the academic year prior to the start date of the programme. You are advised to check the University website at that time to ensure that you have up-to-date information. In the meantime, if you require information you should contact 0208 392 3232.
What is curriculum review?
Curriculum review is the regular and systematic monitoring and reviewing of programmes. It is a normal process in the sector and it is the way by which the university ensures that your course remains up-to-date and relevant. The process may result in changes to the content, structure and/or assessment of the programme.

The University expects to publish details of the re-validated programme by 31 March in the academic year prior to the start date of the programme. You are advised to check the University website at that time to ensure that you have up-to-date information. In the meantime, if you require information you should contact 0208 392 3232.
Need help before you apply?
prev
Get real advice directly from our students
Speak to one of our students using the UniBuddy app now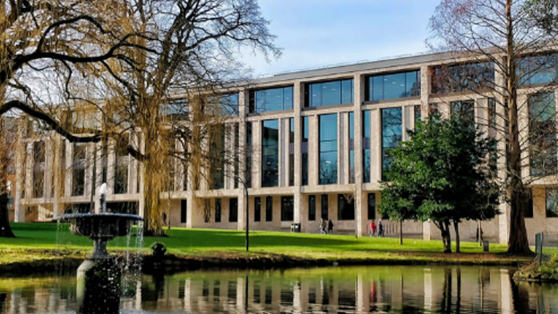 Doing all we can to support our students' lives at Roehampton
At Roehampton, we can offer all new students the opportunity to live in accommodation on our beautiful parkland campus, including affordable and high-end options.
We offer scholarships, provide hardship funding and help you find advice on managing your finances while you study.
We provide plenty of opportunities for you to get involved, through volunteering, playing sport or music, or joining one of our many active student societies.