Early Childhood Studies
Postgraduate degree
A programme of study founded on a commitment to babies and young children as people with agency and unique capacities, and to their overall wellbeing from the prenatal period.
Start Date:
September 2022
January 2023
Duration:
1 year full time, 2 years part time
Degree Type:
MA/PGDip/PGCert

Number of credits:
60 PGCert
120 PGDip
180 MA
School:
Roehampton is internationally renowned for its research into early years education and its Froebelian ethos.

Students graduate with a high level of knowledge and expertise in early childhood and strengthened confidence to contribute to, and advance in their chosen career.

This programme is supported by the renowned Froebel Archive for Childhood Studies and attracts postgraduate students from around the world.
Course and Module Details
Overview:
This postgraduate programme draws on Froebel's understanding of the transformative power of young children's play on their thinking, and the crucial way that adults can either seek to assist or control young children's intrinsic creativity. In adults' interactions with children, however, Froebel recognised the profound influence of the community and social context.
NB: Scholarship funding from the Froebel Trust is available for 2021 - see the tab lower down this page.

The syllabus is underpinned by an awareness of the influence of these social, cultural and political contexts on young children's lives, and of the roots and structures of inequality that arise from these issues. The programme will strengthen your awareness and understanding of these influences and explore how you take account of them in action. In these respects, the programme also draws inspiration from the work of Paulo Freire, the radical and pioneering educator.

The teaching is informed by active research and scholarship in early years policy and practice, as well as leading research into young children's well-being, thinking and understanding. There is a deep commitment to working in partnership with families and communities and to the development of students' professionalism, advocacy and leadership.

The programme is relevant, engaging and of professional and personal value for a variety of roles within the early years sector. For those working directly with young children, engagement with the course content will provide a platform for continuing professional development and career progression, while for those involved in early years policy or research, the course offers an opportunity to engage with up current thinking in a broad range of issues.
Students will first look at babies' and children's capacity for play, how they think, and how they communicate their ideas and emotions though a variety of 'languages' such as talk, mark-making, drawing, construction, movement, music and dance. This is studied from a variety of theoretical perspectives, critically looking at the values and assumptions underpinning these views.

There is special focus on Froebel's legacy in early childhood practice and other key pioneers in the child-centred tradition, which embodies advocacy and respect for children and their families. You will gain an understanding of the political nature of this work, learn advocacy skills for the well-being of young children and their families and develop effective leadership and collaboration techniques across disciplines in the field of early childhood. Alongside modules going deeper into young children's emotions and well-being, students will learn skills for undertaking their own social and educational research. These skills will be put into practice with an extended in-depth research-based project, critically enquiring into an identified social or educational problem.

These modules are those we currently offer and may be subject to change each year.
Indicative Timetable
Full time students on this course are normally in as follows:
Autumn term - Monday evening, Tuesday evening, Thursday evening.
Spring term (depending on chosen options) - Tuesday evening, Thursday evening and some Saturdays.
Summer term (depending on chosen options) - Wednesday and Thursday evenings and some Saturdays.
Tuition fees and funding
September 2022 entry tuition fees
Please follow the links in the table below for more information.
September 2022 funding
Career Options
Our graduates typically progress into careers in professional practice and leadership in early childhood, education, health and social welfare.
Other possibilities are policy making, implementation, administration of early childhood services, research and developing the early years workforce in further and higher education.
How to apply
Postgraduate programmes
You can apply now for any programme starting in April or September 2022.

All postgraduate taught applications can be made via our online application form.
If you need any help or advice with your application, or just want to ask us a question before you apply, please do not hesitate to contact us.
International students
Please note that most international applicants have to pay a deposit before securing their place.
See our Finance pages for more details
Postgraduate application process FAQs
MA Early Childhood Studies Froebel Trust Scholarship Award
Principle
The Froebel Trust, which is committed to the development of theory and practice in Froebelian education and to increasing the numbers of Froebelian-trained educators, has in previous years funded a Scholarship Award to enable suitably qualified students to undertake the MA in Early Childhood Studies at the University of Roehampton. The Award has been explicitly linked to Froebelian principles, and successful applicants were expected to be able to demonstrate familiarity with these in their prior professional experience and/or academic study.
The 2021 Froebel Trust award was up to £5,000 towards tuition fees full-time or part-time. Please check back to these pages throughout the 2021-22 academic year to find out whether the award will be offered again for September 2022.
Need help before you apply?
Who Teaches Early Childhood Studies?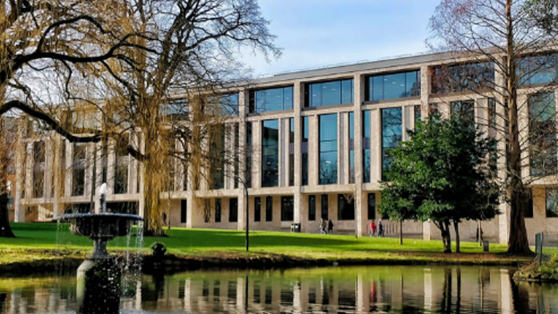 Doing all we can to support our student's lives at Roehampton
At Roehampton, we can offer all new students the opportunity to live in accommodation on our beautiful parkland campus, including affordable and high-end options.
We offer scholarships, provide hardship funding and help you find advice on managing your finances while you study.
We provide plenty of opportunities for you to get involved, through volunteering, playing sport or music, or joining one of our many active student societies.