Music Therapy
Postgraduate degree
Become a qualified music therapist and learn to use music to improve wellbeing and to positively support people of all ages through diverse challenges.
Start Date:
September 2022
September 2023
Duration:
2 years (full-time)
4 years (part-time)
Number of credits:
240 credits
School:
Specific entry requirements
Applicants will normally be required to hold an honours degree, usually in music. Other clinically related disciplines such as psychology, teaching, nursing, or social work, and graduate level professional qualifications in appropriate disciplines such as the performing arts, Occupational Therapy and Social Work are also considered where music skills are demonstrably sufficient.
Applicants need to evidence that they can meet the academic demands of a Masters degree and will be required to prepare and submit a written personal statement to support their application.
A professional standard of proficiency on an instrument (including voice).
Keyboard/piano skills of approximately grade 5 (where piano is not the preferred instrument) or equivalent ability on another harmony instrument, and confidence with voice. The potential to use musical skills in professional Music Therapy practice and the ability to communicate musically.
It is expected that applicants will have extensive experience either having worked professionally or having practiced extensively within their specific arts modality.
An understanding of the nature of music therapy as a distinctive discipline (in particular as practised in the UK).
Applicants should demonstrate a maturity of personality and self-awareness compatible with training as a therapist. Applicants need an appropriate degree of psychological mindfulness including the capacity to form and maintain appropriate empathic relationships with clients. They should also demonstrate emotional literacy, robustness and an ability to be self-reflective. This is addressed through a combination of assessments, including a health screening form, searching questions at interview related to different parts of the training course and experiential work at interview/audition.
Applicants will be expected to have appropriate clinical experience of having worked within a setting and with clients relevant to the programme. This might include working with children, adults or older adults in the areas of learning disabilities, mental health, hospice care, dementia care, neuro-disability, homelessness etc (this is not an exhaustive list). This work can be undertaken either on a voluntary or employed basis.
An International English Language Testing System (IELTS) score of at least 7 with no element below 6.5 for applicants for whom English is not their first language.
Applicants will be required to supply the names of two referees, normally one of these should be able to comment on the applicant's academic suitability and the other the applicant's clinical suitability for the programme. References are always taken up prior to offering a place.
In addition to these requirements, all students must be prepared to enter mandatory individual personal therapy. Payment for therapy is separate to course fees.
All successful applicants will need to complete an enhanced Disclosure and Barring Service (DBS) check. Payment for this is separate to the course fees.

Applicants must have read the 

programme information pack 

thoroughly prior to submitting their application form. 

We also offer 20 week evening foundation courses which provide a broad oultine and introduction in the arts and play therapies.
University of Roehampton London is ranked top 10 in the UK for postgraduate student satisfaction (PTES 2022)
Work placements organised by the University, the majority with a music therapist on site.

Music therapy academics have their own current clinical work and research, and are therefore embedded in current practice and clinical thinking.

The academic team are involved in writing and researching and have a high profile within the UK music therapy profession.

Our School of Psychology is the only one in Europe to offer training in all of the arts and play therapies, including dramatherapy, art and dance movement psychotherapy, music and play therapy.

Benefit from unique opportunities to learn and connect with students across all arts and play therapies.
Course and Module Details
Overview
The Music Therapy programme offers training for competent, practising musicians to become therapists, bringing together their skills, education and other life experiences. On completion of the training, graduates are eligible to apply to the HCPC for registration, with the ability and flexibility to practice within the NHS, Social Services, education or private sector.
Music therapists draw on the innate qualities of music in order to support people of all ages and at all stages of life who are facing diverse challenges. Music therapy facilitates positive changes in wellbeing through engagement in musical interaction. Essential to music therapy is the relationship between client and therapist. At Roehampton we have chosen to base our Music Therapy training programme on the use of psychoanalytic ideas to inform our understanding of the therapy process and the ways the person in therapy uses the environment, the therapist and the music. Supporting theories and ways of working are also studied in order to equip students to meet a range of clinical needs, including an infant observation which assists students in developing their observation and analysis skills.
Music therapy as practised in Great Britain is largely based upon improvisation, the music being the shared and spontaneous creation of the person in therapy and the Music Therapist. Other styles of music, including song writing, the use of technology and pre-composed music are also used as appropriate to the need of the individual.
The programme emphasises your emotional development as a practitioner, together with clinical exploration through critical enquiry. In addition to this, students must be prepared to enter mandatory individual personal therapy for one year of the training.
Music Therapists work within a wide range of clinical settings, individual and group work. They work with people of all ages; from infants and young children through to elderly adults. Music therapy can benefit people with a wide range of difficulties or challenges, including mental health problems, learning disabilities and autism, dementia and neurology, as well as people experiencing serious illness such as cancer or those who have experienced trauma. Placements include work with children and adults in the settings in which Music Therapists commonly work. 
Key areas of study include human development and growth and the clinical context for music therapy, clinical improvisation, observational studies, music therapy theory, clinical case work and supervision, introduction to research and your dissertation. Some of the core teaching will take place with peers from across the Arts and Play Therapies programmes, giving unique opportunities for interdisciplinary learning. Personal development and reflection on this is central throughout the programme.
Clinical work is central to the training. After visits to a variety of workplaces which offer music therapy, you will undertake individual and group work in two contrasting settings over six months, January to June (first placement) and September to February/March (second placement).These clinical placements will provide you with music therapy work experience alongside qualified Music Therapists. You will also participate in an experiential group, which gives you an opportunity to develop your own self-awareness and examine personal and group dynamics through verbal and musical processes. In addition, it is a requirement for you to find and fund personal individual therapy outside the course.
Applicants must have read the programme information pack thoroughly prior to submitting their application form. 

These modules are those we currently offer and may be subject to change each year.
Indicative Timetable
Students on this course are normally in University on Monday and Thursday in their first year. They are also required to set aside 1 day for placement, and additional time for personal therapy and their observational studies module. In the second year students are normally at University on a Wednesday, with additional time required for their research modules and 1 day to be set aside for placement.
Contact us for further information.
Tuition fees and funding
September 2022 entry tuition fees
Full-time (2 years)
UK
EU and International

Fees per year


£9,500

Fees per year


£14,500

Total fees for the course


£19,000

Total fees for the course


£29,000
Part-time (4 years)
UK
EU and International

Fees per year


£4,750

Fees per year


£7,250

Total fees for the course


£19,000

Total fees for the course


£29,000
September 2022 funding
Career Options
Music Therapists work within a wide range of clinical settings. They work with people of all ages; from infants and young children through to elderly adults. Music Therapists work within statutory services (such as the NHS, education or social services), within charities and private organisations, and in private practice. To find out more, you can join the British Association for Music Therapy.
How to apply
Postgraduate programmes
You can apply now for any programme starting in April or September 2022.

All postgraduate taught applications can be made via our online application form.
If you need any help or advice with your application, or just want to ask us a question before you apply, please do not hesitate to contact us.
International students
Please note that most international applicants have to pay a deposit before securing their place.
See our Finance pages for more details
Postgraduate application process FAQs
Short Courses
We also offer weekend introductory courses, 5 day Summer Schools, and 20 week part time evening Foundation Courses which provide a useful background in related professions. For more information, see our Psychology Short Courses.
Need help before you apply?
prev
"My two clinical placements were a highlight as they were in very new environments and I was really challenged by some of the clients I worked with. I was pleased to get a job as a Music Therapist not long after I graduated, and I now work for a charity in North London who work with vulnerable children in their schools. My degree was definitely one of the most interesting experiences of my life and I encourage anyone who is thinking of training as a Music Therapist to apply to Roehampton."
Evie Wavell, MA Music Therapy graduate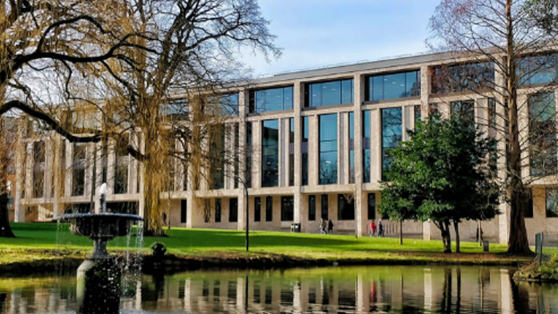 Doing all we can to support our students' lives at Roehampton
At Roehampton, we can offer all new students the opportunity to live in accommodation on our beautiful parkland campus, including affordable and high-end options.
We offer scholarships, provide hardship funding and help you find advice on managing your finances while you study.
We provide plenty of opportunities for you to get involved, through volunteering, playing sport or music, or joining one of our many active student societies.