PGCE Primary
Postgraduate degree
Train to be a primary school teacher at Roehampton, with its uniquely long heritage in teacher training and its commitment to Froebelian principals of education.
Start Date:
September 2023
Duration:
1 year (full-time)
Course Code
Early Years Foundation Stage and Key Stage 1 (EYFS/KS1) - course code X121
Key Stage 1 and Key Stage 2 (KS1/KS2) - course code 2F4W
School:
University of Roehampton London is ranked top 10 in the UK for postgraduate student satisfaction (PTES 2022)
Roehampton has been providing teacher training through its colleges for 180 years - Ofsted rates our primary age courses as "Outstanding" (2023 report).

You'll spend approximately 20 weeks on school placement with excellent mentoring, helping you build the confidence you'll need to embark on your first job.

Successful completion of this course will gain you qualified teacher status and excellent job prospects, particularly across London and the south east.
Course and Module Details
Overview:
Do you want to inspire young people and help change lives? Would you like to enjoy a great starting salary and a rewarding career? Teaching offers all of this. Being able to educate and inspire future generations, seeing young children grow and develop with your help is unlike any other job.
As one of the UK's leading and longest-running providers of teacher education, we can offer you the best foundation for a successful career in the profession. Completion of this one year course will provide you with Qualified Teacher Status (QTS) from one of the highest rated providers in the country. PGCE Primary at Roehampton will provide you with 60 credits towards a master's qualification.

If you study PGCE Primary at Roehampton you will be taught by a supportive, passionate and driven team of academic staff who are all specialists in their subject areas. Our academic staff strive to ensure you receive the best education and will encourage you to become a confident and successful teacher. We also have a range of support departments to help you with everything from dealing with money matters, to support with your studies.

This postgraduate course gives you the tools to build a successful career in teaching while providing a holistic view of the profession; you will look at the role of the child, the curriculum and the teacher. You will apply to specialise in a pathway for either 3-7 or 5-11 year olds.

You will cover all of the National Curriculum Core and Foundation Subjects, examine learning across the curriculum and the relationship between the subjects in these two groups.

You will study a range of modules which will hone your expertise and effectiveness as a teacher. You will learn how to manage a classroom, how planning and preparation contribute to the effectiveness of your teaching, how best to work with parents and other adults, and gain an understanding of children's behaviour.

Our subject rooms are set up to include resources you will find in a primary classroom environment. This is important for your full immersion into the school environment and familiarity with the way classrooms are structured, and the type of resources teachers need on a daily basis.

Two assessed teaching placements in our partner schools will provide you with invaluable hands-on work experience giving you the confidence for your future career and a better understanding of how teaching works in practice. The opportunity to review pedagogy in other schools is also provided.

All our academic staff have extensive teaching experience in schools, and many have served in local authorities or subject associations as advisory teachers, as Ofsted inspectors or as consultants. This means that our programmes are based on the reality of the classroom and the education system. Many work at the cutting edge of research in teacher education, which has a positive impact on the quality of provision for all of our students.
Course Content
This one year programme will build your confidence in the classroom and will provide you with the subject knowledge to effectively teach the whole primary curriculum.

You will select an age group that you would like to focus on, and each of your modules will be tailored to the academic requirements or the different ways of teaching children of that particular age. All of your learning will ask you to reflect on your own experiences in your school placement with a consideration of current issues and research. These reflections will then allow you to review and adjust your teaching methods to improve your own practice.

The three modules are covered during the year are:

Professional Studies
The Core Curriculum
The Wider Curriculum
Each is assessed through 100% attendance, completion of directed tasks and a written assignment. The Professional Studies assignment requires a critical analysis of how children learn focusing on a current priority in teaching, for example SEND, EAL and behaviour for learning. In the Core Curriculum, the focus will be on English, Maths or Science and you will plan a sequence of lessons which you will deliver relating to a current area of research in your subject. A written essay will then provide a rationale for your lessons and an evaluation of the learning which took place. The Wider Curriculum assessment allows you to focus on one foundation subject and plan a medium-term plan which you will then write a rationale for.

You will undertake two blocks of assessed school experience, one in the autumn term which is approximately seven weeks, and the second in the spring term lasting around thirteen weeks. During the placements, you will progress from participant observer, via support teacher and sharing teacher, to lead teacher.
Additional module information
Module information for our new 2023 entry specialisms can be found on the below pages.

These modules are those we currently offer and may be subject to change each year.
Indicative Timetable
Please be aware that a PGCE is a demanding full time commitment, starting in the first week of September and finishing mid-July. Days spent on campus tend to be from 9am - 5pm, and days on school placement can be considerably longer. It is not possible to study for a PGCE alongside other work commitments or without childcare if you have young children.
Tuition fees and funding
September 2023 entry tuition fees
2023/24 entry funding
Career Options
The vast majority go into careers in teaching plus a number of our graduates go on to management and leadership roles within schools and other education settings, charity roles, policy advice, national assessment and curriculum development.
How to apply
There are still spaces on some of our PGCE programmes for September 2023. You can submit your application via this page. Please be aware however that the final interview day for 2023 entry will be 10 August, so your application will need to be submitted at least a week before that date.
For 2023 entry you can browse and filter all available courses on the Department for Education's site from 9am on 4 October 2022. You can also start your application from that date, but you will not be able to submit it until 9am on 11 October 2022. We will invite our first candidates for interview in late October / early November.
Prior to these dates you can access a lot of useful information about all aspects of training to be a teacher on the Get Into Teaching website.
Course Codes
Whilst the PGCE Primary programme covers the 3-11 age phase, you need to choose a specialism pathway for your training and your two assessed placements will be in the chosen specialism age phases.

For Early Years Foundation Stage and Key Stage 1 (EYFS/KS1) - the course code is X121.
For Key Stage 1 and Key Stage 2 (KS1/KS2) - the course code is 2F4W.
Need help before you apply?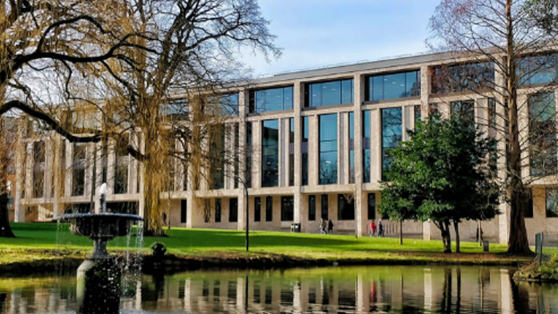 Doing all we can to support our students' lives at Roehampton
At Roehampton, we can offer all new students the opportunity to live in accommodation on our beautiful parkland campus, including affordable and high-end options.
We offer scholarships, provide hardship funding and help you find advice on managing your finances while you study.
We provide plenty of opportunities for you to get involved, through volunteering, playing sport or music, or joining one of our many active student societies.