PhD (Prof) Education
Postgraduate degree
New for 2022, a professional doctorate with an unusually broad range of available subject specialisms, based within an established School of Education.
Start Date:
September 2023
Number of credits:
180 at master's level
360 at doctoral level
School:
A minimum 2:2 honours degree from a UK university in a relevant subject area, or an equivalent academic qualification, or evidence of equivalent experience and learning acquired in a professional context (it is desirable to have evidence of successful learning at level 7 but not a requirement to have a full master's.)

Relevant and appropriate professional experience (this could be working in education or a related field)

Evidence of proficiency in spoken and written English at a suitable level English Language. IELTS requirements for International Students would be aligned to those currently used at UoR:

Entry to Stage 1 – 6.5 overall with a minimum 5.5 in each component.

Entry to Stage 2 – 7.0 overall with a minimum 6.5 in each component
4. An outline research proposal with the potential to satisfy the criteria for the intended award. Applicants will need to outline a research project at the point of application and are advised to make contact with a potential supervisor to discuss this before making an application. It is desirable, but not essential, to have experience of conducting empirical research. Applicants will be invited to an interview following a satisfactory review of their application form including the research proposal.
Deadlines
Students are advised to make contact to develop their application as early as possible in the spring so as to enable the process and ensure – where appropriate – a September enrolment. Applications for September admission will not be processed if initial enquiries are made later than the end of the preceding June.
Postgraduate, Master's and Doctoral On-Campus Open Evening
Wednesday 1 November 2023, 5–7.30pm
University of Roehampton London is ranked top 10 in the UK for postgraduate student satisfaction (PTES 2022)
The 2023 edition of The Complete University Guide ranks Roehampton 2nd in London for research quality in Education.

Specialisms include teacher development, music, science, early years, inclusive education and SEND, and education leadership.

The University's 180 year old roots and links with education provide an excellent context for research into contemporary education.
Course and Module Details
Overview:
The PhD (Prof) Education is a professional doctorate programme in education, designed to provide a structured programme of study for those working, nationally and internationally, in the educational sector.
There are two stages to the programme. Stage One is the taught component (level 7) that acts as a staged preparation for the research component, Stage Two (level 8), which is the student's research project. Stage Two carries 360 credits and leads to a thesis of 55,000-60,000 words or equivalent for a multi-modal project.
The programme enables students to undertake a substantial piece of professionally relevant, original research which creates new knowledge at the forefront of the disciplinary field and professional practice. It promotes reflection on professional practice as well as providing opportunities for students to study the epistemology and methodology of education research at an advanced level.
Students will develop their knowledge and understanding of techniques for research and advanced academic enquiry, together with the ability to effectively communicate their findings to specialist and non-specialist audiences. The programme will provide opportunities to conceptualise, design and implement a project for the generation of new education knowledge.

These modules are those we currently offer and may be subject to change each year.
Career Options
The programme is intended to enable existing professionals to develop with a view to progressing into more senior positions in a wider variety of education related organisations. Transferable skills requiring the exercise of personal responsibility and autonomous initiative in complex and unpredictable situations are a key learning outcome for the programme.
Stage One
Full time students will need to attend supervisory meetings, taught module sessions, tutorials, seminars and other events in the day and evening, including three Saturday seminars.
Part time students will need to attend supervisory meetings, taught module sessions, tutorials, seminars and other events in the evening time including three Saturday seminars but they may also wish to attend these in the day.
Stage Two
Students will need to attend supervisory meetings, seminars and other events in the day and evening time including three Saturday seminars.
By clicking on the yellow 'How to Apply' button at the top of this page, you will be taken to a Graduate School webpage where there is further information about the application process. Please download the Guidance Notes and follow them carefully.
As the Guidance Notes explain, you need to develop a strong research proposal as part of your application following the precise requirements of the application form. It is crucial that you make contact with a potential supervisor relevant to your topic to discuss this. In the personal statement section of the application, you must explain how your professional experience is relevant and appropriate for the programme and specifically your proposed research, including experience you may have in conducting empirical research.
Need help before you apply?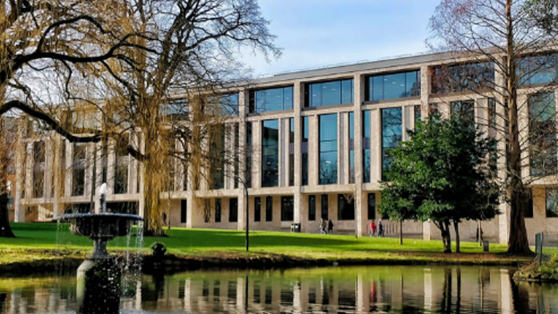 Doing all we can to support our students' lives at Roehampton
At Roehampton, we can offer all new students the opportunity to live in accommodation on our beautiful parkland campus, including affordable and high-end options.
We offer scholarships, provide hardship funding and help you find advice on managing your finances while you study.
We provide plenty of opportunities for you to get involved, through volunteering, playing sport or music, or joining one of our many active student societies.