Theology and Religious Studies
Postgraduate degree
A systematic and in-depth understanding of key theological and religious issues within Christianity, Islam, Indian Religions and Judaism, taught by a passionate and experienced subject team.
Start Date:
September 2023
Duration:
1 year (full-time)
2 or 3 years (part-time)
Degree Type:
MA/PGDip/PGCert

Number of credits:
PGCert 60
PGDip 120
MA 180
School:
Postgraduate, Master's and Doctoral On-Campus Open Evening
Wednesday 1 November 2023, 5–7.30pm
University of Roehampton London is ranked top 10 in the UK for postgraduate student satisfaction (PTES 2022)
One of the few programmes in London that offers specialised teaching in Islam, Indian Religions and Judaism as well as different aspects of Christian theology.

The course offers flexible teaching: the MA can be taken either full-time or part-time and most teaching takes place in the evening.

Use advanced research menthods and critical analysis to explore the ways in which different religious perspectives contribute to contemporary debates about identity, politics and culture.
Course and Module Details
Overview:
As faiths of all kinds navigate their way through a period of great social change, it is more important than ever to possess an in-depth understanding of how religions interact with each other and society. This MA Theology and Religious Studies creatively balances the close study of particular traditions with a broad understanding of the subject area. It is one of the few programmes in London that offers specialised teaching in Islam, Indian Religions and Judaism as well as several different aspects of Christian theology.
On this course, you can study a variety of religious traditions in relation to key topics such as social justice, gender, text and textual interpretation, and inter-religious dialogue and conflict. You will have the opportunity to develop an in-depth understanding of particular religious themes, with a broad view of religious studies, and its diverse forms of interpretation and practice. This course will suit students who want to develop advanced skills in the study and analysis of a range of issues, rather than focus on one specialist subject.
A strength of the course is that it allows you to have a critical awareness of the relationship between different religions and modern secular society, with an informed and scholarly understanding of differences within as well as between religious traditions and cultures. From this, you will use advanced methods of research and critical analysis to explore the ways in which different religious perspectives contribute to contemporary debates about identity, politics and culture.
Drawing on London's rich resources for studying religions in their material, social and historical contexts, this course provides an enhanced learning environment and contributes to your wider cultural awareness and understanding. This is underpinned by a focus on advanced study and research skills, designed to equip you with a high level of proven academic competence and preparing you for careers and vocations that require this expertise. This might include educational institutions, NGOs and other organisations in which understanding of religious perspectives is an advantage.
Course content
The MA in Theology and Religious Studies allows you to focus on a broad range of topics within the subject area, and study your particular interests in-depth.
On offer are modules that will ground students in theories and methods of study in religious studies, theology, and biblical studies as well as specialised teaching in Hinduism, Buddhism, Islam, Judaism and different aspects of Christian theology, including theological perspectives from the global South. You can study gender across these traditions, for example looking at women in Islam from feminist, reformist and traditionalist perspectives, or specifically looking at gender across religious texts and narratives. Or you could study contemporary doctrine, such as Pentecostalism in different parts of the world, or systematic approaches to the relationship between theology and ecology.
Finally, you will write a dissertation on a topic of your choice, which can be informed by your study on the optional modules, or from an area of interest of your own.

These modules are those we currently offer and may be subject to change each year.
Indicative Timetable
Students on this course are normally in on Wednesday and Thursday afternoon and evening.
Tuition fees and funding
September 2023 entry tuition fees
Year 1 fees, see links in table below for more information.
2023/24 entry funding
Career Options
This course is especially beneficial for those hoping to pursue a career in education, faith-based organisations, religious ministry and chaplaincy, or social services; work in international aid, the charity sector, and community organisations. One of the most important, and marketable, skills that a graduate of this degree will gain is that of 'religious literacy', opening-up a wealth of opportunities in the education sector and beyond. This programme is also beneficial for students hoping to pursue further research in theology and religious studies at PhD level.
How to apply
Postgraduate programmes
You can now apply for any programme for any entry point in 2023.
All postgraduate taught applications can be made via our online application form.
If you need any help or advice with your application, or just want to ask us a question before you apply, please do not hesitate to contact us.
International students
Please note that most international applicants have to pay a deposit before securing their place.
See our Finance pages for more details
Postgraduate application process FAQs
Need help before you apply?
Who Teaches Theology and Religious Studies?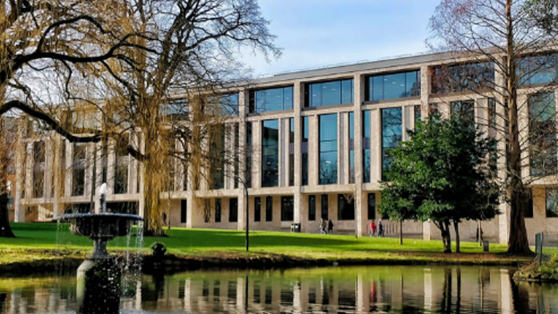 I studied the MA Theology and Religious Studies achieving a distinction in 2019. I am now a 3rd year Theology PhD student at the University of Exeter. My thesis is called 'Constructing a Feminist Afropean (Nigerian/British) Biblical Hermeneutical Framework.' I also work as a Postgraduate Teaching Associate in the Theology Department. I thoroughly enjoyed my time at Roehampton. It sparked my love of biblical studies and inspired me to pursue the subject further. I also loved the beautiful green spaces on campus.
Olabisi Obamakin - MA Theology and Religious Studies
I studied Religious Studies and Theology and graduated in 2007. I'm currently a Development Executive at Arrow Media – a factual and documentary company. I started working in television straight out of uni and haven't looked back since. All the research skills and practice building arguments for debates as part of my course really set me up for my career in current affairs talk shows and long-form documentaries. Now my job is to produce new ideas for factual programmes. My favourite memory about Roehampton was the debates! There is nothing I enjoyed more than getting to the heart of social issues that shape our society, it gave me a whole new perspective on the world.
Charlie Brades-Price - Religious Studies and Theology
"I studied the MA Theology and Religious Studies (completed studies in September 2019). Our class discussions were lively and now I am currently pursuing my PhD at the Graduate Theological Union in Berkeley, California."
Gilbert Duah Otuo-Acheampong
Doing all we can to support our students' lives at Roehampton
At Roehampton, we can offer all new students the opportunity to live in accommodation on our beautiful parkland campus, including affordable and high-end options.
We offer scholarships, provide hardship funding and help you find advice on managing your finances while you study.
We provide plenty of opportunities for you to get involved, through volunteering, playing sport or music, or joining one of our many active student societies.