Welcome to the Whitelands Chaplaincy
Learn more about contacting chaplaincy whilst social distancing.
The Rev Dr. Daniel Eshun is the Whitelands College Chaplain and is the recognised Anglican Chaplain to the University. Daniel can be found in his office G058 which is just inside the chaplaincy room which is left off main reception.
He is happy to chat with you about anything from Anthropology to Zoology, and/or American Football to Zimbabwe Cricket! Whitelands College Chaplaincy provides a forum for good conversations, lots of laughter, individual support, friendships, enjoying free teas, coffee, biscuits and cakes. Whitelands Chaplaincy is a place you can be yourself, learn a lot and socialise at the same time, knowing fully well that no one is going to assess you at end of the academic year!
For further information, or to make an appointment to see the Chaplain, please contact Rev Dr Eshun or give him a call on (0)20 8392 3516.
Sabiha is the Muslim Chaplain to Whitelands College, and the wider university. She is based in Southlands College (LS002) but regularly frequents all the Chaplaincy spaces and Prayer rooms across campus; including G042, the Islamic Prayer Room at Whitelands College.
The university has a multi-faith Chaplaincy team, who work closely together to provide a safe and welcoming experience for all students and staff. The Roehampton Chaplaincy team is here for those of faith and none, whatever college you are part of and whether you live on-campus or commute in.
Sabiha organises activities and events for all members of the university, as well as specifically for Muslims. Past activities have included; The Coexist Café (a time for student to gather over a hot drink and learn a skill, or just chillax!), the International Food Bazaar, an Eid Special Community Lunch, talks on Ramadan and Fasting (with top tips about how to balance commitments to academic work and Ramadan), Women's Only Workouts (including yoga and badminton), and much, much more!
If unsure about how Sabiha can support you, drop an email to sabiha.iqbal@roehampton.ac.uk or call on 020 8392 3185.
Multi-Faith Team
Our chaplaincy provision offers support for people across a range of faith traditions, reflecting the heritage of the four colleges and the identities of our students today. We are committed to exploring ecumenical and inter-faith work across the campus and to demonstrating the common commitments of all faiths to nurturing a happy and supportive community.
The ambition of Roehampton Chaplaincy team is to encourage all members of the university to, 'Flourish in Faith and Friendship'. The team provides a breadth of services to enable this on your Roehampton journey, including; pastoral care, spiritual guidance, advice on ethical development, one-to-one listening, community-based events, lunches, teas, crafting sessions and much, much more! We are here for you as a whole, that means your mental, physical and spiritual wellbeing. To keep up to date with what we have to offer, please visit our social media pages on the links
Our programme, location of prayer rooms and social spaces, as well as details for the whole multi-faith team can be found on the university's chaplaincy page.
Our Chaplaincy Spaces
The map below illustrates the prayer and social spaces available on Whitelands, as well as main campus: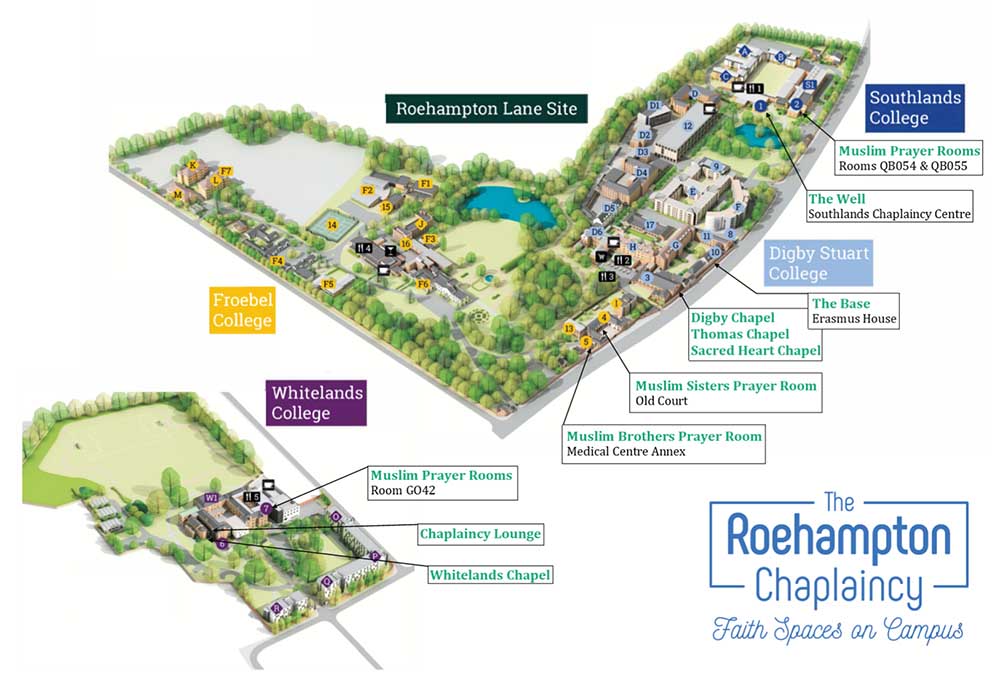 Chapel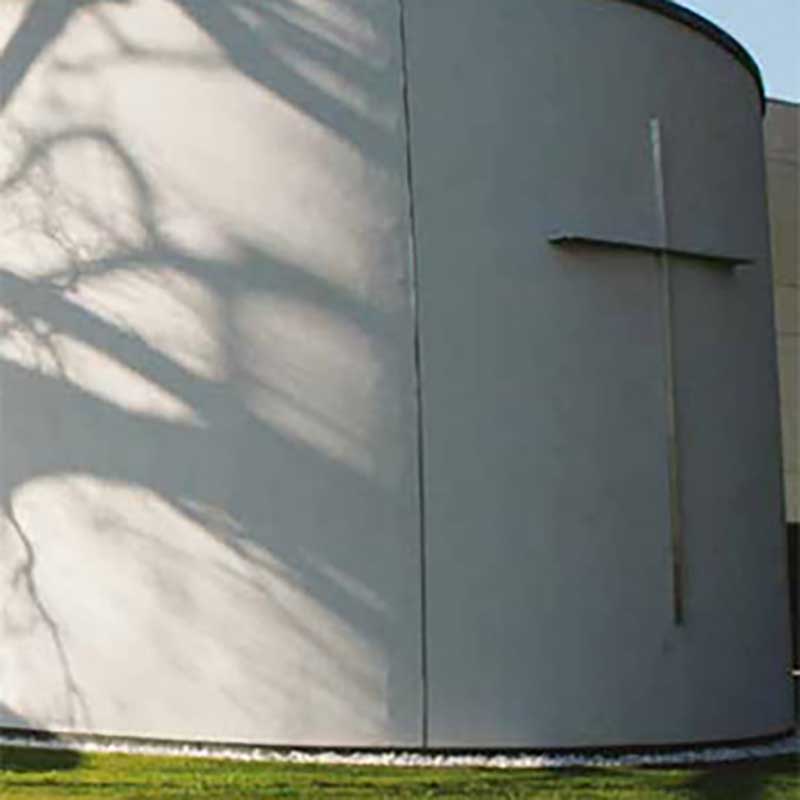 The Whitelands Chaplaincy lounge is situated on the ground floor of the College, adjacent to Reception. It is open every day for students and staff for informal conversations or as a space for reading or study. The Chapel, which is entered through the Chaplaincy, is available for much of the week as a quiet space for reflection, prayer, and meditation. (During the day on Thursdays and Fridays it is in use for teaching).
Prayer Room
The prayer room at Whitelands is currently in room G042. The room is accessible with your ID card throughout the day, and people of all faiths are very welcome to use it. This room is rooted in the Islamic tradition and therefore there is a space for brothers and a separate space (by a partition) for sisters. You can find prayer mats, copies of the holy Quran and other helpful resources in the rooms. The room has a ablution facility located nearby.
Prayer rooms are also located on main campus:
Froebel College (brothers are in Medical Centre annex building and sisters are in Old Court building)
Southlands College, Queens Building (brothers QB 54 and sisters in QB 55).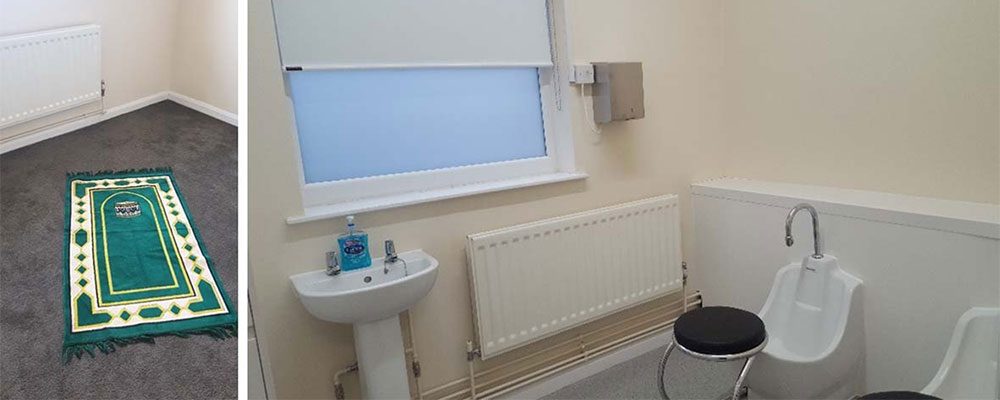 Islamic prayer rooms have prayer mats available and copies of the Holy Quran (left) and Ablution facilities (right) can be found on campus.
Activities of Whitelands Chaplaincy
Everyone, of whatever faith or none, is welcome to attend any of these activities, either to participate or simply to observe.
Morning Prayer is held every weekday morning in term time from 8.45-9.00 a.m., and communion is celebrated every other Tuesday in term time from 5.30-6.00 p.m. (every two weeks)
Liturgical services are also held to mark special occasions: they include Year's Start (in the third week of term); Christmas (in early December); Candlemas (in February); Shrove Tuesday (the day before the start of Lent); Maundy Thursday (the day before Good Friday); and a Valedictory service (in May). Other religious services are organised from time to time.
Friday Jummu'ah prayer takes place on campus, for further details please see our social media platforms (links below) or email Sabiha (Muslim Chaplain) on: sabiha.iqbal@roehampton.ac.uk
The Chaplaincy team also organises social events, field trips to museums, art galleries, and other activities that provide opportunities for new and continuing students to make friends. All our religious services, social events and activities are advertised on the Chaplaincy noticeboards, as well as on social media.
Social media
Stay up to date with activities by following us on social media, these are our official accounts:
Facebook
Roehampton Chaplaincy
Whitelands College Facebook Page
Twitter
RoeChaplaincy
Instagram
@RoeChaplaincy