Practical Theology (DTh)
Postgraduate degree
A part-time professional doctorate, ideally suited to those already working in Christian ministry, which will enhance the evaluative and reflective skills required to go further in their career.
Start Date:
September 2022
Duration:
Pre-Masters: 6-7 years (part-time)
Post-Masters: 4-5 years (part-time)
School:
A programme with a focus on using research to develop, strengthen and enhance theological practice.

Prepares students already working in ministry for more senior level, national or international roles, as leaders, advisers or consultants in faith practice.

All Roehampton's ministerial theology provisions are timetabled to fit in with busy ongoing ministry and leadership roles.
Course and Module Details
Overview
The DTh is a professional doctorate programme in practical theology. This programme offers a variety of bespoke outcomes to diverse students engaged with Christian practice including: strategic leadership training to senior level ministry personnel; the deeper integration of theological learning to contexts of practice; the honing of missiological and ecclesiological understandings as lived out in real-life situations. The programme focuses on using research to develop theological practice, to the mutual enrichment of both academic theology and faith practice.
There are two entry points for this programme. Stage 1A is for those with a good undergraduate degree and professional experience, who will initially take a selection of preparatory taught modules at Masters level. Stage 1B is for post-Masters applicants, and is an accelerated form of the course.
Regardless of entry point this programme will help those already engaged in Christian Ministry and Service – diversely understood - to develop the advanced research, evaluative and reflective skills necessary to further their professional and career profile, and contribute form their practice to wider theological discourse. Students will prepare for more senior level, national or international roles, as leaders, advisers or consultants in faith-practice and ministry. As a practitioner of Practical Theology, this course will encourage you to reflect technically and theologically on your practice, and on the application of scholarship and research to a range of faith, ecclesial and missiological contexts.
In order to develop your research skills, the programme will provide you with extensive knowledge and understanding of areas of Practical Theology and the critical methods practised at the forefront of the discipline. Students be enabled to reflect on these research methods in looking at their own practice, researching this both empirically (where appropriate) and from theological discourses, producing findings that satisfy peer scrutiny and are deemed to be of publishable quality, making an original contribution to knowledge.
There is a wide range of areas in which students will develop their skills on this programme. You will enhance and apply your ability to handle written sources and empirical data, using appropriate advanced critical methods and controls. Your integrative understanding of theological sources and traditions will be built up as these sources are brought into dialogue with practice. A further key skill is your ability to marshal coherent and effective arguments and communicate conclusions in oral and written form. The programme will also enable you to demonstrate a competent grasp of a range of technical skills arising within the discipline, including a range of approaches to textual historical, hermeneutical and cultural issues. You will also look at quantitative and qualitative approaches to the investigation of individual and social experience and behaviour, and be able to respond critically to their use by others.
Course content
Stage 1A: This introductory stage of the course offers a variety of taught modules on topics in contemporary ministry and religious studies taken from our Masters' programmes in Christian Ministry and Theology and Religious Studies, respectively. Tutors will assist any student taking this phase of the course to make an appropriate selection of modules.
Stage 1B: In the first year of this stage, you will study advanced methods and approaches to practical theology, as well as undertaking a major literature review relevant to your proposed area of research. During this in–depth investigation, you will identify gaps or problems in the literature and identify one or more research questions around which you can structure your research project.
In the second year, you will conduct an in–depth study of a more focused topic, developed to the level of a publishable article, before going on to draft and present a full project proposal which must be approved before transition to the dissertation phase.
Stage 2: The final phase of the course will allow you to work closely with staff members with particular expertise in your chosen research area, developing an original and substantial investigation of potential significance both to academic inquiry and professional practice. The thesis, which will build upon your work in years one and two, will typically run to 50–60,000 words, and will be defended in a viva voce examination. Departmental research strengths include empirical, pastoral and public theology across a range of UK and global church traditions and mission contexts, including Roman Catholic, Anglican, Baptist and Pentecostal. We also have a particular strength in Black Majority Churches.
Course subject to curriculum review
Tuition fees and funding
September 2022 entry tuition fees
Year 1 fees for full time study. Please note that this programme is only available part time and exact fees will be posted shortly. See links in table below for more information.
| | |
| --- | --- |
| UK | EU and International |
| TBC | TBC |
September 2022 funding
Career Options
The DTh professional doctorate is intended to enable existing professionals working in church ministry, mission, education, development or the para-church sector to move into senior or national positions within visionary research-led organisations.
How to Apply
Please click on the yellow How to Apply button near the top of this page, which will take you to Roehampton's Graduate School pages, which have full details of how to apply for doctoral level programmes.
Indicative Timetable
In Stage 1b, teaching is normally delivered over the course of three study days per module, usually on Thursdays.
Need help before you apply?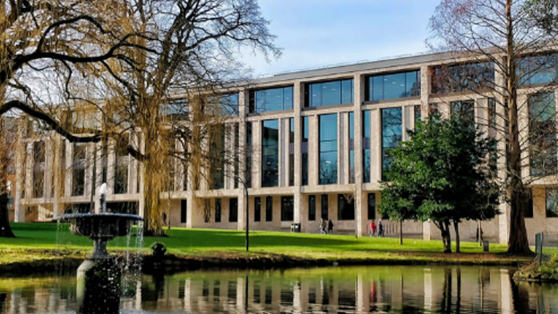 Doing all we can to support our student's lives at Roehampton
At Roehampton, we can offer all new students the opportunity to live in accommodation on our beautiful parkland campus, including affordable and high-end options.
We offer scholarships, provide hardship funding and help you find advice on managing your finances while you study.
We provide plenty of opportunities for you to get involved, through volunteering, playing sport or music, or joining one of our many active student societies.