Applied Cognitive Neuroscience
Postgraduate degree
Gain hands-on experience in our state-of-the-art research facilities on this highly practical Master's, and understand the relationship between complex cognitive functions and their underlying brain mechanisms.
Start Date:
September 2023
Duration:
1 year (full-time)
2 years (part-time)
Degree Type:
MSc/PGDip/PGCert

Number of credits:
MSc: 180 credits
PGDip: 120 credits
PGCert: 60 credits
School:
Specific entry requirements
Applicants are required to hold a second class honours degree in Psychology, Neuroscience, Biology, Life Sciences, Information Technology or a related subject.
Postgraduate, Master's and Doctoral On-Campus Open Evening
Wednesday 1 November 2023, 5–7.30pm
University of Roehampton London is ranked top 10 in the UK for postgraduate student satisfaction (PTES 2022)
Our unique programme will allow you to gain a huge amount of hands-on experience in our state-of-the-art facilities and cognitive testing laboratory.

Learn to use magnetic resonance imaging (MRI), brain stimulation equipment, eye-tracking and EEG equipment.

Taught by research-active academics with strong expertise in the field of cognitive neuroscience.

Understand the relationship between complex cognitive functions and their underlying brain mechanisms, both in health and in disease.
Course and Module Details
Overview
Through the use of state-of-the-art cognitive neuroscience research techniques, you will study the structure and function of the brain, examine the cognitive neuroscience of health and disease and learn the latest research techniques and methodologies to understand how brain structure and function underlies cognitive functions.
Hands-on research experience will be a key part of your studies. In our state-of-the-art research facilities, you'll use many of the most important research tools used in contemporary cognitive neuroscience, including MRI, EEG, eye-tracking, brain stimulation (TMS, tDCS), cognitive testing and both standard and computational data analysis. View our facilities here.
This programme will give you an understanding of the relationship between complex cognitive functions and their underlying brain mechanisms, in both patients and healthy individuals, as well as an in-depth knowledge of cognitive neuroscience research techniques and methodologies.
You'll study a diverse range of topics. This includes the structure and function of the brain and how to interpret research findings from neuroimaging and brain damage studies. You will understand the neural mechanisms of healthy brain functioning, decision-making, emotion, attention, memory and visual processing, as well as gaps in our current knowledge in these areas. You'll learn how abnormal brain functioning can contribute to psychiatric symptoms and diagnoses, including depression, anxiety, schizophrenia and drug use and addiction, as well as how cognitive neuroscience techniques can contribute to their treatment.
Communication skills in cognitive neuroscience will teach you key attributes to aid you in your career post-graduation, including how to construct research manuscripts and deliver effective presentations. Research methods and statistics are embedded in all modules, so you'll be able to apply these skills in varying contexts.Through your dissertation project, you'll make your own independent contribution to an original piece of research and will develop the skills and expertise required to graduate successfully into the rapidly changing field of cognitive neuroscience.
The programme is delivered through taught lectures, methods workshops, seminars, discussion forums and online lectures, and is designed to give you the maximum flexibility to fit the programme around your other commitments.

These modules are those we currently offer and may be subject to change each year.
Tuition fees and funding
September 2023 entry tuition fees
Year 1 fees, see links in table below for more information.
2023/24 entry funding
Career Options
There are several career pathways this MSc can lead to. The solid understanding of applied cognitive neuroscience principles and techniques, and the experience in research, will equip you with the skills and knowledge required for a career in cognitive neuroscience research, whether in academia or industry. Such skills and knowledge will also equip you to succeed in a wide range of graduate careers, particularly those which require experience in data analysis, scientific and non-scientific communication skills, and skills in writing/publications, including finance, business, medicine, marketing and more.
How to apply
Postgraduate programmes
You can now apply for any programme for any entry point in 2023.
All postgraduate taught applications can be made via our online application form.
If you need any help or advice with your application, or just want to ask us a question before you apply, please do not hesitate to contact us.
International students
Please note that most international applicants have to pay a deposit before securing their place.
See our Finance pages for more details
Postgraduate application process FAQs
Need help before you apply?
prev
Milena Rota, graduated 2022.
I moved to the UK in 2017 and completed my undergraduate degree at Abertay University, Dundee, Scotland. Soon after graduating I moved to London to start my MSc Applied Cognitive Neuroscience at Roehampton and after that, I moved again to Leicester where I am now completing my 3+1 PhD in Psychology, Neuroscience where I will be studying the effects ageing on perception via co-registration of EEG and eye tracking.
The MSc Applied Cognitive Neuroscience is a unique (as I do not think there is ANY MSc like this one in the whole UK) and very well-structured MSc programme and I strongly recommend it to all those people who want to continue along the research path, whether it is industry or academia based. Further, majority of the lecturers are researchers themselves and there will always be an opportunity for everyone to get hands-on experience in conducting research.
My MSc in Applied Cognitive Neuroscience particularly enabled me to access funding from the UK Research Institute (UKRI) and win a Biotechnology and Biological Sciences Research Council Scholarship. Importantly, I feel that the very research nature of the MSc thesis was what allowed me to stand out from other PhD applicants and get accepted into multiple PhDs.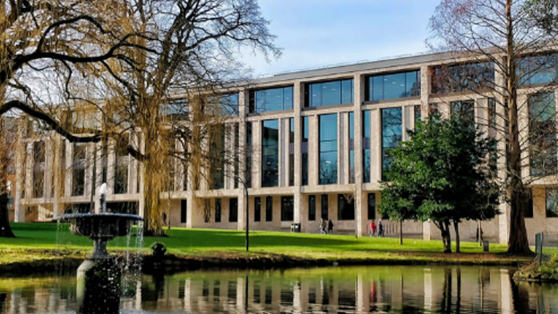 Doing all we can to support our students' lives at Roehampton
At Roehampton, we can offer all new students the opportunity to live in accommodation on our beautiful parkland campus, including affordable and high-end options.
We offer scholarships, provide hardship funding and help you find advice on managing your finances while you study.
We provide plenty of opportunities for you to get involved, through volunteering, playing sport or music, or joining one of our many active student societies.