Computing
Postgraduate degree
Our MSc Computing Degree is a conversion programme that requires no previous academic experience in the field of computing.
Start Date:
September 2022
Duration:
January start: 17 months (January 2022 - May 2023 - full time)
September start: 1 year (full-time), 2 years (part-time)
Degree Type:
MSc/PGDip/PGCert

Number of credits:
MSc: 180 credits
PGDip: 120 credits
PGCert: 60 credits
School:
Specific entry requirements
Degree qualification 2:2 or above. Degrees in non-computing fields are welcomed.
You will need access to a computer throughout the course.
Postgraduate, Master's and Doctoral On-Campus Open Evening
Wednesday 9 November 2022, 5–7:30pm
Train to become a socially responsible IT practitioner, contributing to the evolving technology sector.

Gain an MSc in Computing with no previous experience in the field.

Work on projects from anywhere using a cloud platform.
Course and Module Details
Overview:
Rapid developments in technology have resulted in a wealth of opportunity across all sectors and industries for people who are qualified in multiple areas of computing.
Our MSc Computing Degree is a conversion programme that requires no previous academic experience in the field of computing, making it the ideal course if you want to change career or develop a new set of skills to complement your existing experience and move a wider range of exciting roles in computing and IT.
The course focuses on core computing skills such as software development, databases and cyber security, helping you to become a competent and fluent computing professional. You will learn key programming skills across languages and platforms, as well as how to provide data solutions and secure systems. You will become familiar with cyber security, exploring the lifecycles, legal frameworks and tools of the computer science professional, including legal, social and ethical concerns of computer security such as hacking and its ethical standpoint.
You will learn about developing software and working with data and build your fluency in Python, and also be provided with the opportunity to become a Certified Ethical Hacker (EH) through the EC-Council.
You will complete your degree with a project that will explore a topic of your choice, producing a product and a supporting report. The project will fit one of the following four types; student defined, research based, industry defined or social enterprise. You will be able to work with academic staff across the University, not just within Computing.
Your teaching time at the University takes the form of labs, workshops and tutorials. These are supported by videos that introduce the key concepts which students should watch weekly before class. This provides students with a more tailored experience, with plenty of face-to-face contact time. Industry standard IT resources are hosted in the cloud to allow you to work on projects and assignments from anywhere.
Students enrolling on this course in January will be taught in the Spring Term (January - May), with no teaching in the Summer Term between May and September - though an optional work placement may be undertaken. You will then continue studies in the Autumn Term (September - January) and complete your MSc Project in the following Spring Term (January - May).

These modules are those we currently offer and may be subject to change each year.
Tuition fees and funding
September 2022 entry tuition fees
Year 1 fees, see links in table below for more information.
September 2022 funding
Placement Year
This course offers all students the option of a one-year paid work placement, to boost your employability even further. If you choose this route, you will take the placement following year two of your course, and then return to complete your degree.
Why take a placement?
A placement year is the perfect opportunity to gain valuable work experience, to build on the career skills we will teach you on this degree. The connections you make on the placement will improve your career prospects further, and equip you with the skills you need to secure graduate-level employment.
How we support you
The University's Placement and Work Experience Team are experts at helping you to secure a placement. They will work closely with you from the start, helping you research potential employers, discover placement opportunities, create and pitch your CV, and will coach you to perform well in interviews. We aren't able to guarantee a placement, but our sector-leading advisors will give you the best possible chance of securing one.
Find out more about how we'll support you
We understand that your plans might change once you start your programme. If you decide not to do a placement, you will have the option of completing the three year version of your programme.
Whatever your choice, you will have access to many opportunities for work experience through our Placement and Work Experience Team, and access to face-to-face and 24/7 online careers support.
Indicative Timetable
January 2022 intake
Students will normally be in on Monday and Tuesday.
Career Options
When you graduate you will move into a wide range of careers, including entry roles in the IT industry, from government and public sector to large IT organisations and media. Roles could include programmer, web developer, software developer and data scientist.
How to apply
Postgraduate programmes
You can apply now for any programme starting in April or September 2022.

All postgraduate taught applications can be made via our online application form.
If you need any help or advice with your application, or just want to ask us a question before you apply, please do not hesitate to contact us.
International students
Please note that most international applicants have to pay a deposit before securing their place.
See our Finance pages for more details
Postgraduate application process FAQs
Need help before you apply?
Research conducted in the School of Arts covers a wide range of diverse and innovative arts practices, from dance and drama to journalism, film, media, linguistics and computing. Our School of Arts is divided into three subject areas: Dance; Drama, Theatre and Performance; and Communication, Culture and Media. Click here to view our research page.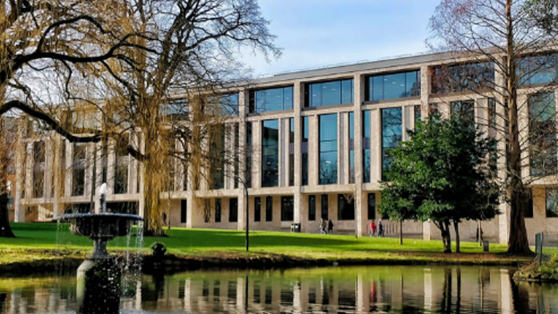 Doing all we can to support our students' lives at Roehampton
At Roehampton, we can offer all new students the opportunity to live in accommodation on our beautiful parkland campus, including affordable and high-end options.
We offer scholarships, provide hardship funding and help you find advice on managing your finances while you study.
We provide plenty of opportunities for you to get involved, through volunteering, playing sport or music, or joining one of our many active student societies.