Data Science
Postgraduate degree
Our MSc Data Science will prepare you with the skills you need to work in a rapidly growing sector.
Start Date:
September 2022
Duration:
1 year (full-time)
2 years (part-time)
Number of credits:
MSc: 180 credits
PGDip: 120 credits
PGCert: 60 credits
School:
Specific entry requirements
UK degrees: 2:2 STEM, preferably computer science, maths
or statistics.
Quickly specialise and skill up in an in-demand sector.

Work on projects anywhere using a cloud platform.

Have the opportunity to gain professional experience in industry by applying for a year-long work placement

Study in labs in the brand new state-of-the-art media centre on campus - find out more.
Course and Module Details
Overview
As technology advances, the ability to generate, capture and analyse data from a range of sources and for a range of applications is vital across numerous industries. Our MSc Data Science is designed to ensure you can apply critical mathematical thinking to various kinds of data, meaning that the degree will be of value in financial, social, policy and commercial settings in the world of work.
The programme will cover data analysis, machine learning, and visualisation, as well as the necessary technical skills to thrive in industry. You will also be equipped with the skills needed to stay abreast of changes in the field and to work in ways that are commercially, ethically, and legally appropriate.
You will begin by taking modules in programming, data analytic techniques and the fundamentals of mathematics for data science. These skills are then developed and applied in machine learning, data visualisation and data engineering, the three planks of data science. You will benefit from an emphasis on real world work flows and application of technique, using case studies and working with real data sets. You will then have a chance to consolidate and demonstrate the skills you have acquired throughout the year in your final project.
Our MSc Data Science follows an active blended learning style, with lectures replaced by videos and workshop/seminars. The aim is to provide you with an environment focused on collaborative learning, through the development of innovative studio-style lab spaces that feel like home. The lab material you will study will enable you to work in the studio environments that you will experience in the real-life working environments.
Course subject to validation
Modules
Here are some of the modules we are currently offering:
Mathematics for Data Science
Data Analytics
Data Visualisation
Machine Learning
Data Engineering
Applications of Data Science
MSc Project
Work Placement
Placement

These modules are those we currently offer and may be subject to change each year.
Tuition fees and funding
September 2022 entry tuition fees
Year 1 fees, see links in table below for more information.
September 2022 funding
Career Options
Data Science is a growing field with graduates in great demand and with excellent prospects in areas such as: fintech, banking, management consultancies, travel and transport, utilities, and healthcare. Employability in computing programmes is embedded throughout the curriculum, with a focus on project-based assessment that attempts to mimic real-life scenarios. Your final project will provide an opportunity to work on a task relevant to your career aspirations.
How to apply
Postgraduate programmes
You can apply now for any programme starting in April or September 2022.

All postgraduate taught applications can be made via our online application form.
If you need any help or advice with your application, or just want to ask us a question before you apply, please do not hesitate to contact us.
International students
Please note that most international applicants have to pay a deposit before securing their place.
See our Finance pages for more details
Postgraduate application process FAQs
Validation and curriculum review
What is validation?
Validation is a formal process through which the University approves a programme (content, teaching, learning and assessment) as being of appropriate standard and quality. This is a normal process used throughout the university sector.

The University expects to publish details of the validated programme in the academic year prior to the start date of the programme. You are advised to check the University website at that time to ensure that you have up-to-date information. In the meantime, if you require information you should contact 0208 392 3232.
What is curriculum review?
Curriculum review is the regular and systematic monitoring and reviewing of programmes. It is a normal process in the sector and it is the way by which the university ensures that your course remains up-to-date and relevant. The process may result in changes to the content, structure and/or assessment of the programme.

The University expects to publish details of the re-validated programme by 31 March in the academic year prior to the start date of the programme. You are advised to check the University website at that time to ensure that you have up-to-date information. In the meantime, if you require information you should contact 0208 392 3232.
Need help before you apply?
Research conducted in the School of Arts covers a wide range of diverse and innovative arts practices, from dance and drama to journalism, film, media, linguistics and computing. Our School of Arts is divided into three subject areas: Dance; Drama, Theatre and Performance; and Communication, Culture and Media. Click here to view our research page.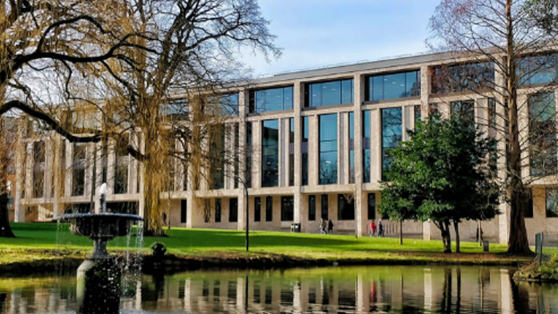 Doing all we can to support our student's lives at Roehampton
At Roehampton, we can offer all new students the opportunity to live in accommodation on our beautiful parkland campus, including affordable and high-end options.
We offer scholarships, provide hardship funding and help you find advice on managing your finances while you study.
We provide plenty of opportunities for you to get involved, through volunteering, playing sport or music, or joining one of our many active student societies.