Media and Communications
Postgraduate degree
Understand how media and communications shapes our social, cultural and political discourse – and how you can make a material impact on the world through effective strategic communication.
Start Date:
September 2022
Duration:
1 year (full-time)
2 years (part-time)
Degree Type:
MA/PGDip/PGCert

Number of credits:
MA: 180 credits
PGDip: 120 credits
PGCert: 60 credits
School:
Postgraduate, Master's and Doctoral On-Campus Open Evening
Wednesday 9 November 2022, 5–7:30pm
A professionally oriented course which will provide you with the critical skills to succeed in communications, public relations and marketing industries.

Learn from experts and practitioners working in the industry.

Combines creative and professional skills with critical engagement with social issues.

Study in our brand new, state of the art media facilities – find out more.
Course and Module Details
Overview
Our new MA Media & Communications course is aimed at those who wish to pursue a career in communications, public relations and social marketing.
Throughout the year, you will combine creative and professional skills with critical engagement of social issues such as regional development, social inclusion, economic policy and sustainability, meaning that you will be prepared top work with organisations that have a strategic, communicative, social and political focus.
Having both an academic and practical focus, many of your sessions will be seminars and workshops, alongside a handful of lectures so you are able to engage with some of the academic and intellectual foundations of media theory, the public sphere and communications practices such as framing and reframing.
You will develop your digital and professional skills while gaining the critical skills to analyse communications and messaging across different sectors and channels. This means that you will be equipped with a strong awareness of media language and impactful storytelling, while being able to tailor your content and communications to wide range of different audiences.
You'll also have the chance to engage with those working in the communications industry in the third sector, NGOs and policy think tanks through live projects, guest speakers and case studies.
This programme is a professionally oriented course that puts an emphasis on authentic assessment. This means that many of your methods of assessment will mirror those found in professional practice. In your Final Project, you will be writing and designing your own communications strategy for a defined piece of policy or a campaign, and detailing how it will achieve its strategic objectives and win over hearts and minds. When pitching and designing your own communications strategies, you will have the opportunity to specialise in causes and campaigns that are important to you.
You will complete your MA with the powerful understanding of how different types of media can be deployed to facilitate social and cultural change, and be well placed to enter numerous industries that require multi-skilled communications professionals to further their aims and objects through effective storytelling, communications, public relations and marketing.
Course subject to validation
Modules
Here are some of the modules we are currently offering:
Media and Socio-Cultural Change
Digital Communications
Framing and Reframing
Campaigning and Writing for Campaigns
Project Management and Professional Communications
Final Project

These modules are those we currently offer and may be subject to change each year.
Tuition fees and funding
September 2022 entry tuition fees
Year 1 fees, see links in table below for more information.
September 2022 funding
Career Options
The MA programme is designed with professional communications roles in mind. There is significant growth in employment opportunities within the new and emerging media and communications roles for graduates with strong digital communications and production skills. As you will be able to give organisations a space in the public and political conversation that they might otherwise lack, there will be a variety of options open to you involving social media, content production, marketing and communications.
A strong understanding of what makes a good communications strategy and how to build, frame and reframe narratives is of vital importance to the communications and PR efforts of businesses, charities, political parties and pressure groups.
Our careers team is available to support you from the start of your studies until after you graduate. They will help you build your CV, prepare for interview, and meet and learn from successful graduates working at the top of their careers. You'll have the opportunity to work with your partners across London and beyond, and also attend a Roehampton jobs fair where you can find out about graduate opportunities and meet employers.
How to apply
Postgraduate programmes
You can apply now for any programme starting in April or September 2022.

All postgraduate taught applications can be made via our online application form.
If you need any help or advice with your application, or just want to ask us a question before you apply, please do not hesitate to contact us.
International students
Please note that most international applicants have to pay a deposit before securing their place.
See our Finance pages for more details
Postgraduate application process FAQs
Validation and curriculum review
What is validation?
Validation is a formal process through which the University approves a programme (content, teaching, learning and assessment) as being of appropriate standard and quality. This is a normal process used throughout the university sector.

The University expects to publish details of the validated programme in the academic year prior to the start date of the programme. You are advised to check the University website at that time to ensure that you have up-to-date information. In the meantime, if you require information you should contact 0208 392 3232.
What is curriculum review?
Curriculum review is the regular and systematic monitoring and reviewing of programmes. It is a normal process in the sector and it is the way by which the university ensures that your course remains up-to-date and relevant. The process may result in changes to the content, structure and/or assessment of the programme.

The University expects to publish details of the re-validated programme by 31 March in the academic year prior to the start date of the programme. You are advised to check the University website at that time to ensure that you have up-to-date information. In the meantime, if you require information you should contact 0208 392 3232.
Need help before you apply?
Research conducted in the School of Arts covers a wide range of diverse and innovative arts practices, from dance and drama to journalism, film, media, linguistics and computing. Our School of Arts is divided into three subject areas: Dance; Drama, Theatre and Performance; and Communication, Culture and Media. Click here to view our research page.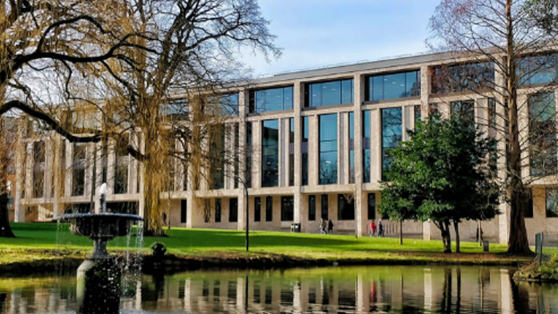 Doing all we can to support our students' lives at Roehampton
At Roehampton, we can offer all new students the opportunity to live in accommodation on our beautiful parkland campus, including affordable and high-end options.
We offer scholarships, provide hardship funding and help you find advice on managing your finances while you study.
We provide plenty of opportunities for you to get involved, through volunteering, playing sport or music, or joining one of our many active student societies.