Web Development
Postgraduate degree
Our MSc Web Development provides a blend of computing and digital media skills to set you up for success in the industry.
Start Date:
September 2023
Duration:
1 year (full-time)
2 years (part-time)
Degree Type:
MSc/PGDip/PGCert

Number of credits:
MSc: 180 credits
PGDip: 120 credits
PGCert: 60 credits
School:
Specific entry requirements
A degree of 2:2 or above - does not need to be computing related.
University of Roehampton London is ranked top 10 in the UK for postgraduate student satisfaction (PTES 2022)
Develop technical backend and creative frontend skills to understand the full web development stack.

Embedded IT work culture replicating industry experience.

Gain professional experience in industry by applying for a year-long work placement.

Study in labs in our brand new state-of-the-art media centre on campus - find out more.
Course and Module Details
Overview
If you're looking for a career change or are interested in web and software development our MSc Web Development will open a pathway into the IT industry. It requires no previous undergraduate experience in the field of computing.
Our MSc Web Development blends technical and creative skills into one package, teaching you software development and web design skills. Over the year, you will study software development through a comprehensive introduction to programming with Python before moving on to full-stack development with JavaScript. You will become an accomplished programmer and meet the requirements to join the web development industry. To complement this, you will also study basic and advanced web design to ensure you graduate a well-rounded developer with a flair for digital media. Additionally, you'll learn how to store and retrieve data, as well as learn about the security aspects of IT. To finish your programme, you will undertake an end-of-year project based on your interests in the field.
After the programme, you can undertake an industrial placement year, allowing you to gain valuable work experience relevant to your career aspirations.
We deliver all computing programmes in an active blended learning style, with most lectures replaced by workshops and seminars. Our approach provides a learning environment focused on collaborative working in practical lab spaces, immersed in an environment based on working in the IT industry.
We are ranked as the best modern university in London (Times Good University Guide 2022 and Complete University Guide 2022).

These modules are those we currently offer and may be subject to change each year.
Tuition fees and funding
September 2023 entry tuition fees
Year 1 fees, see links in table below for more information.
2023/24 entry funding
Career Options
We embed employability in computing programmes throughout the curriculum, focusing on project-based assessments that simulate real-life scenarios. Our collaborative method, team working modules, and MSc Project demonstrate our project-based approach to learning. This prepares you to enter the software development or web/mobile design industries.
Our careers team is available to support you from the start of your studies until after you graduate. They will help you build your CV, prepare for interviews, and meet and learn from successful graduates working at the top of their careers. You'll have lots of opportunities to work with our partners across London and beyond, and attend the Roehampton's Jobs Fair where you can find out about opportunities and meet employers.
How to apply
Postgraduate programmes
You can now apply for any programme for any entry point in 2023.
All postgraduate taught applications can be made via our online application form.
If you need any help or advice with your application, or just want to ask us a question before you apply, please do not hesitate to contact us.
International students
Please note that most international applicants have to pay a deposit before securing their place.
See our Finance pages for more details
Postgraduate application process FAQs
Need help before you apply?
Research conducted in the School of Arts covers a wide range of diverse and innovative arts practices, from dance and drama to journalism, film, media, linguistics and computing. Our School of Arts is divided into three subject areas: Dance; Drama, Theatre and Performance; and Communication, Culture and Media. Click here to view our research page.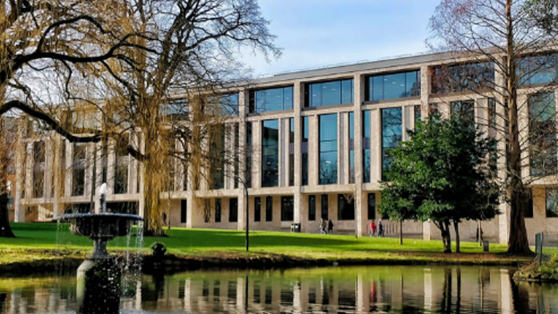 Doing all we can to support our students' lives at Roehampton
At Roehampton, we can offer all new students the opportunity to live in accommodation on our beautiful parkland campus, including affordable and high-end options.
We offer scholarships, provide hardship funding and help you find advice on managing your finances while you study.
We provide plenty of opportunities for you to get involved, through volunteering, playing sport or music, or joining one of our many active student societies.