Poland
Welcome to Roehampton! / Witamy w Roehampton!
Congratulations on taking the first steps towards what will be one of the defining experiences in your life. Whichever degree programme you choose, by embarking on a degree at Roehampton you will be broadening your personal and intellectual horizons and we look forward to welcoming you to our University!
The University of Roehampton warmly welcomes students from Poland. Of the 9,000 students we have in total on campus, approximately 14% are international. The university if host to representatives from over 140 countries around the world, offering a uniquely diverse student experience. Our Polish students can be found across all of our 10 academic departments, studying programmes such as Business, Media, English, Humanities, Psychology, Life Sciences and Drama.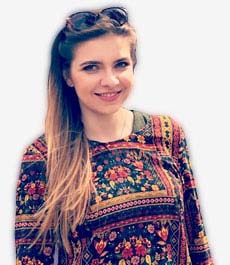 Gruszecka Agata
Business Management and Economics
Taking studies in this breath-taking place has completely changed my life, thought me new skills and showed me the world of opportunities I had no idea existed while living in Poland.
Schooling system differs significantly from a system in my country and has thought me time management, organisational skills and also balance between my studies and social activities.
At the University I meet friends from the four corners of the globe. Secondly, being a student at this university gives me the chance to take up an internship and after that a well-paid job in a dream company. In addition, a huge variety of new learning equipment and the social activities will be my entry ticket to the world's possibilities after graduation.
What is more, which city is more suitable for me to improve the language skills rather than the capital of the UK?