Poland
Welcome to Roehampton! / Witamy w Roehampton!
Congratulations on taking the first steps towards what will be one of the defining experiences in your life. Whichever degree programme you choose, by embarking on a degree at Roehampton you will be broadening your personal and intellectual horizons and we look forward to welcoming you to our University!
The University of Roehampton warmly welcomes students from Poland. Of the 9,000 students we have in total on campus, approximately 14% are international. The university if host to representatives from over 140 countries around the world, offering a uniquely diverse student experience. Our Polish students can be found across all of our 10 academic departments, studying programmes such as Business, Media, English, Humanities, Psychology, Life Sciences and Drama.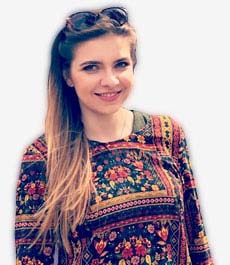 Gruszecka Agata
Business Management and Economics
Taking studies in this breath-taking place has completely changed my life, thought me new skills and showed me the world of opportunities I had no idea existed while living in Poland.
Schooling system differs significantly from a system in my country and has thought me time management, organisational skills and also balance between my studies and social activities.
At the University I meet friends from the four corners of the globe. Secondly, being a student at this university gives me the chance to take up an internship and after that a well-paid job in a dream company. In addition, a huge variety of new learning equipment and the social activities will be my entry ticket to the world's possibilities after graduation.
What is more, which city is more suitable for me to improve the language skills rather than the capital of the UK?
We often visit schools, colleges and education fairs in the Poland. You can find details of upcoming events below.
| | | | |
| --- | --- | --- | --- |
| City/Location | Date | Event | Contact |
| TBC | | | |
Due to the Covid-19 pandemic there are travel restrictions in place for a number of countries. In order to ensure that we continue to work towards slowing down the spread of the virus, we have temporarily suspended our travel. We understand that this is not ideal as we know that many of you value meeting Roehampton staff face to face. We are monitoring the situation and we intend to resume travel as soon as it is safe to do so.
Though we cannot travel, we have increased the number of digital Open Days, Online Taster Sessions and Webinars to ensure you can still find out more about studying at Roehampton. Our digital events have been extremely popular during this difficult time, please take a look at our event page where you will find a list of upcoming digital event.
Once we are able to resume travel safely we will be updating this page with new information so please do check back regularly.
Click here to view our beautiful parkland campus in southwest London and take a virtual tour!
We are always happy to talk to our students. If you have any questions about studying at Roehampton please get in touch using our contact form to ask any questions about our programmes, entry requirements and life at Roehampton.
Bachelor applicants: You can apply via UCAS https://www.ucas.com/
Master degree applicants: All Postgraduate applicants are able to apply directly to the university by using the online application form.
You can find further information about how to make an application by visiting our How to Apply page.
| | | |
| --- | --- | --- |
| Programme Level | Academic | English |
| IFP | Pass Matura | IELTS 4.5 with no less than 4.0 in any section |
| Undergraduate | Completion of Matura with average 4+ (60%) or above (higher level, written examinations) depending on the course | IELTS at 6.0 overall with no less than 5.5 in any section |
| Masters | Completion of Licencjat / Inzynier / Bachelor (post 2003); Magister (before 2003) with GPA of 4 or above | IELTS at 6.5 overall with no less than 5.5 in any section (7.0 overall for research degrees) |
| MBA | Completion of Licencjat / Inzynier / Bachelor (post 2003); Magister (before 2003) with GPA of 4 or above | IELTS at 6.5 overall with no less than 5.5 in any section |
Please note above requirements are guidelines only. Each application will be assessed individually.
For students who do not yet meet the required level of English, you can take a preparation course at the University of Roehampton before commencing your degree programme. We offer a range of Pre-sessional English courses for students who need to develop their English.
Funding
If you are a citizen of an EU country and are applying for a bachelor course with us to begin in 2019, then you are likely to have access to UK student loans for the duration of your course, even if the course concludes after the UK's exit from the EU. To do so, you will need to be eligible for home fee status, which is normally the case if you have resided in the European Economic Area for at least 3 years prior to starting your studies with us.
Tuition fee discounts
A 2% tuition fee discount will be given to all students who make full payment of their tuition fees online by the published date of enrolment. Our payment options can be found here.
A 20% tuition fee discount on campus-based courses will be given for all UK, EU and international Roehampton alumni holding a full undergraduate degree or postgraduate qualification and those who studied here on an exchange/study abroad programme, for any higher programme of study. This reduction will be applied to the tuition fee prior to payment.
Scholarships
| | |
| --- | --- |
| Esports Scholarship | We have launched a scholarship worth £1,500 a year for students with talents in esports, for those entering the University in 2019. We are also investing in growing esports at the University, with new facilities and a student society. |
| Roehampton Music Scholarship | The University of Roehampton offer music scholarships to enable undergraduate and postgraduate students meet some of the costs of developing their talents through lessons, courses, or the purchase of relevant equipment (instruments/strings/sheet music etc.). This scholarship gives you up to £1200 cash award. |
| Scholarship for Sporting Excellence | The University is dedicated to giving its students the opportunity to play sports at all levels. We recognise the difficulties students encounter trying to balance academic studies with training and competition schedules. The scholarships range from £500 - £1500 per year of study. |
For more details about these scholarships and to apply, please visit the Financial Support and Guidance pages.
September entry
All international students who apply before 31st July will be guaranteed university accommodation.
January and April entry
We also offer a range of accommodation options for students starting in January or April, applications can be made from the beginning of November.
For further information please refer to our accommodation pages.